Sri Lanka is one of the world's hottest new travel destinations. A decade since the end of a civil war, Sri Lanka has well and truly put out the welcome mat, and you will discover that it packs an enormous amount of history, beauty and hospitality into its deceptively small size. Its multicultural history dates back thousands of years, it is one of the world's best locations to get up close and personal with amazing wildlife including the Asian elephant, it produces the world's best tea in its humid misty highlands, and its palm-fringed beaches are drop dead gorgeous.
Our tour starts soaking up the history, savouring the spices and looking for wildlife in the Cultural triangle, before heading to the holy city of Kandy to truly experience Sri Lankan hospitality and give back to our hosts by helping out in local childcare centres and restoring old community temples to their former glory. Meet local people, try delicious new foods, and experience Sri Lanka well off the tourist track! We'll head into the highlands, hopping aboard one of the world's most beautiful train rides from Kandy to Ella and hike to the viewpoint of Little Adam's Peak. We'll learn about elephant welfare while staying at the Millennium Elephant Foundation, and help baby turtles on their way to freedom in a Sea Turtle conservation project. And the best part? Everything is included – your guides, your travel, your meals, all activities, and accommodation that ranges from volunteer dormitories and backpacker hostels to beautiful hotels with pools to cool off in.
Are you ready to embark on the most amazing and socially conscious adventure you've ever had?
2 weeks volunteering in a Sri Lankan child care centre and renovating a community temple

Search for wild elephants on a jeep safari in the Sri Lankan forest

Have a personal elephant experience, learning about and bathing these amazing animals

Visit fascinating UNESCO World Heritage historic sites in Sri Lanka's Cultural Triangle

Cycle the ancient temples of the Polonnaruwa Ancient Kingdom World Heritage Site

Climb to the ruined fortress on summit of Sigiriya Lion Rock

Journey through Sri Lanka's highland tea plantations on one of the world's most beautiful train rides

Release endangered baby sea-turtles into the Indian Ocean at a conservation project

Go ride-wild during a full day at Universal Studios theme park in Singapore
Departure dates available late December-April, July-September
Send us a request for a date that suits you
Every school group tour is created bespoke, according to the time of year, available duration, proposed budget and number of group members. Better World Adventures has done the due diligence for you in partnering with extremely high quality and sustainable volunteering projects, and selecting memorable activities and cultural experiences that perfectly showcase each country's uniqueness. 
Use this website to gain an introduction to a selection of the most popular volunteering projects and cultural activities that Better World Adventures are able to combine into your perfect itinerary. Then contact us to discuss your objectives and requirements related to current study themes, group capability, and your travel objectives.  We are absolutely confident that you will end up with an itinerary that delivers above and beyond your expectations, with exceptional attention to detail, and at a price that is significantly lower per head than other providers.
Inclusions
What's included?
Fully escorted tour with two tour leaders (male and female)

Comprehensive travel insurance

Economy class international air travel

All airport transfers

Sri Lankan entry visa

All accommodation (single gender, twin or triple share)

2-3 meals per day

Professional local guides and guide tips

Sri Lankan and Singaporean SIM card with data

2 weeks community and wildlife volunteering

Guided national park wildlife viewing jeep safari
Guided cycle tour of Polonnaruwa ancient kingdom

2-day ethical elephant "voluntourism experience"

Reserved 2nd-class seats for return train travel Kandy to Ella

½ day tuk-tuk tour of Kandy city

Visit the Kosgoda Sea Turtle Conservation Project

Foreigner entrance fees to all scheduled activities

Souvenir T-shirts

Extensive pre-departure orientation

3 day, 2-night stopover in Singapore, including full day entry to Universal Studios, Gardens By the Bay Gardens Rhapsody Sound and Light show, Walking Tour of Chinatown, Marina Bay Skypark
Itinerary
Sample Itinerary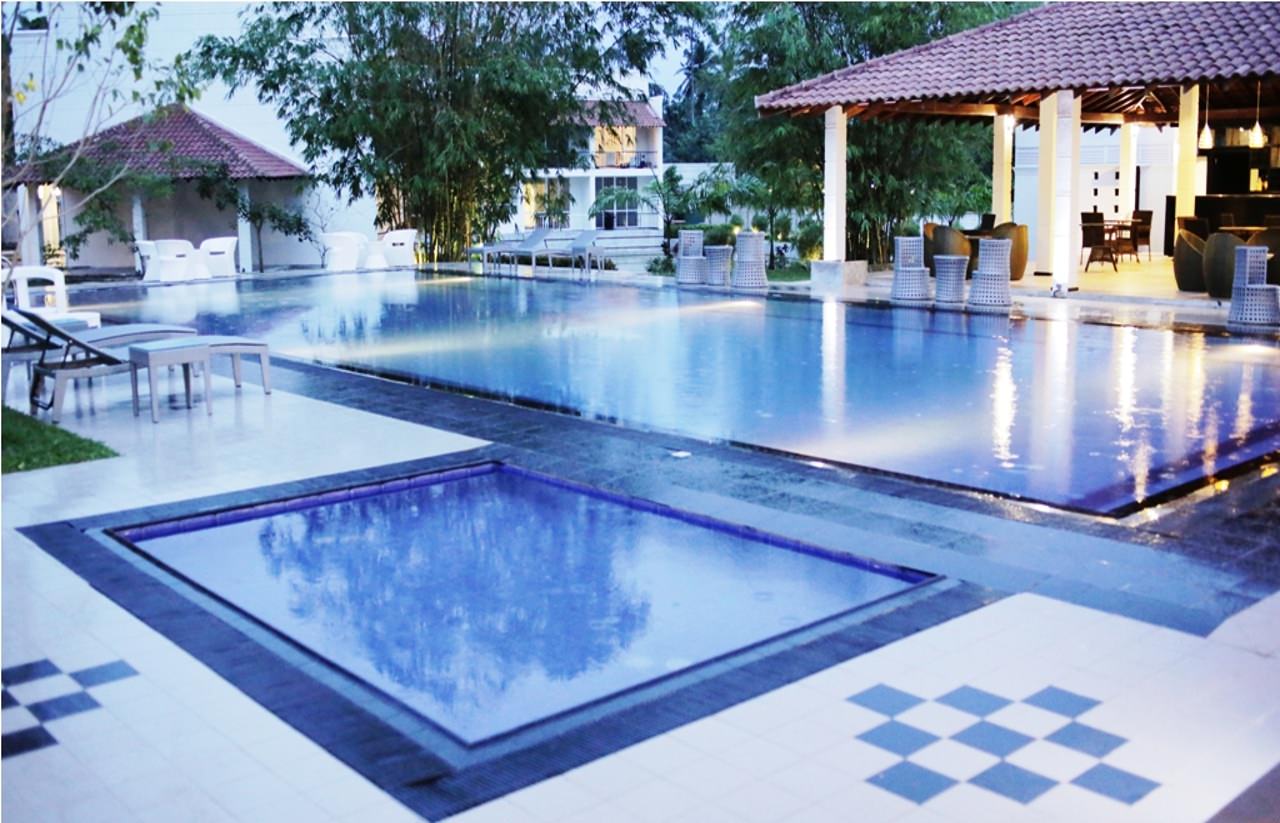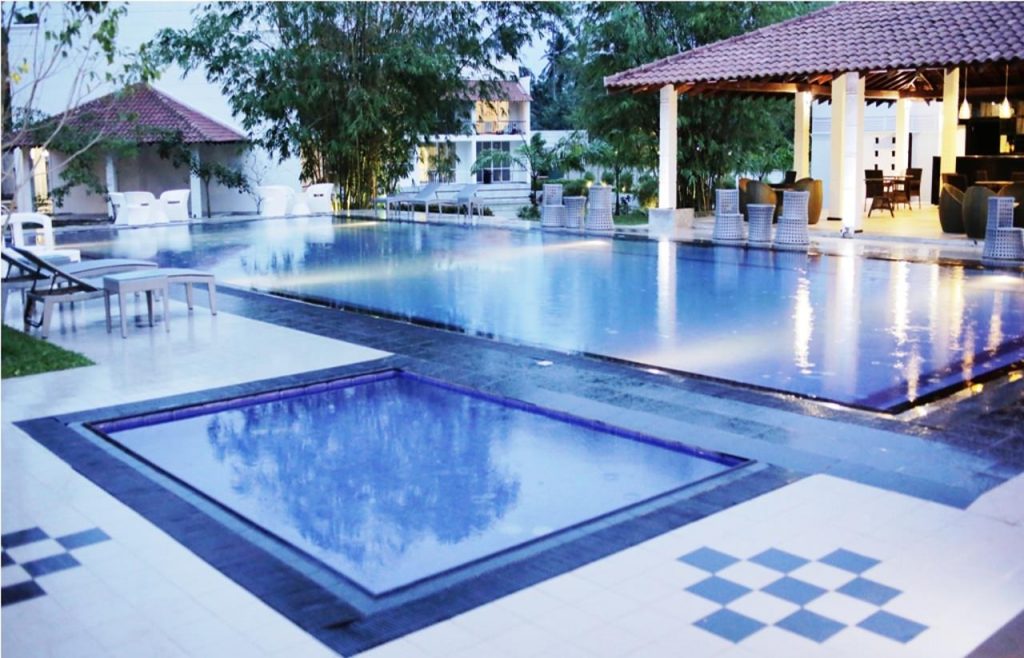 AYUBOWAN, ARRIVE AND ACCLIMATISE
Ayubowan "Welcome to Sri Lanka!
We arrive into Bandaranaike Airport at midday and will be met at the airport and taken to our nearby hotel for an afternoon of relaxation, trip orientation and acclimatization to the heat and shake off the jet lag.  Thankfully the hotel has a wonderful pool.
Lunch/ Dinner

Covanro Hotel, Veyangoda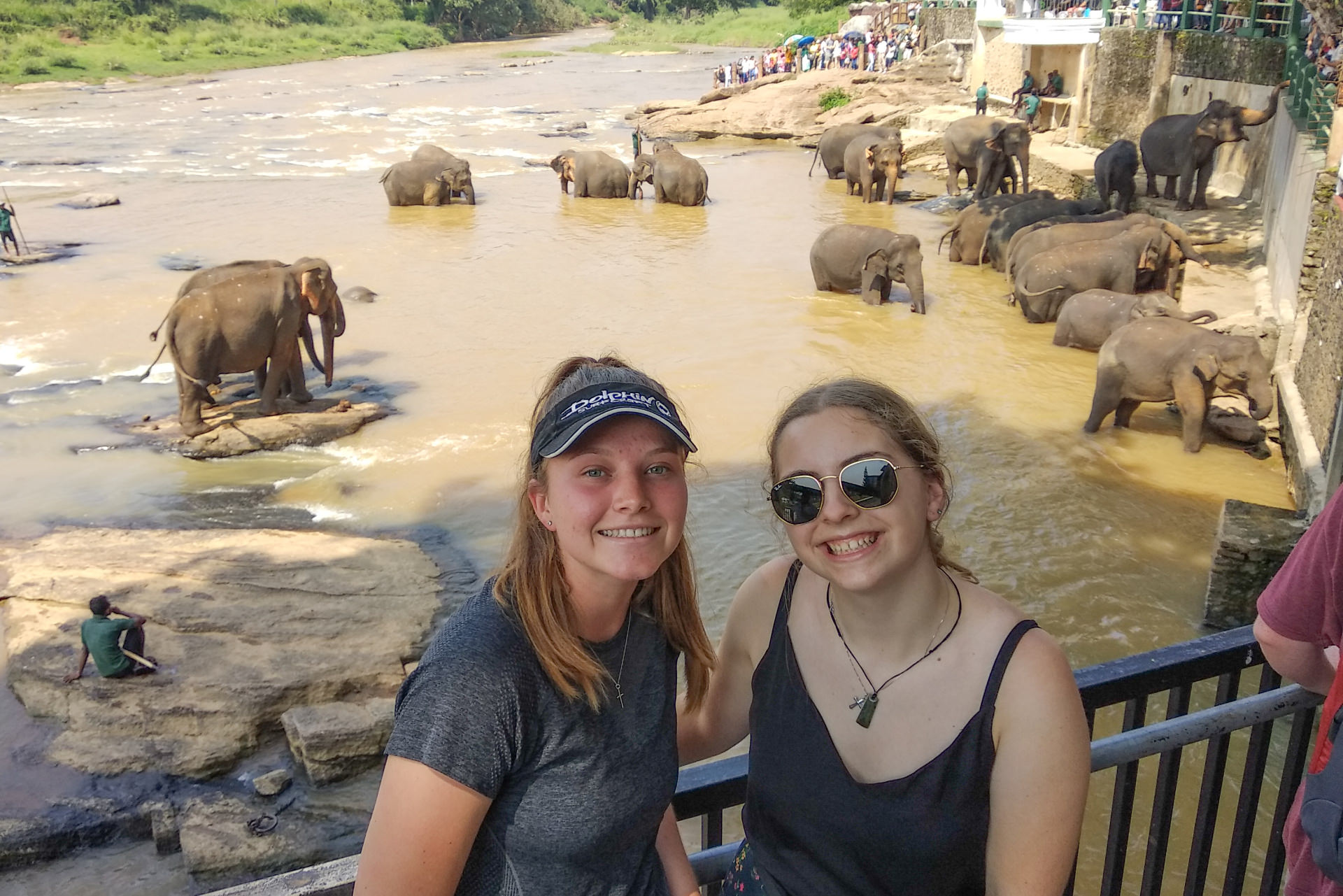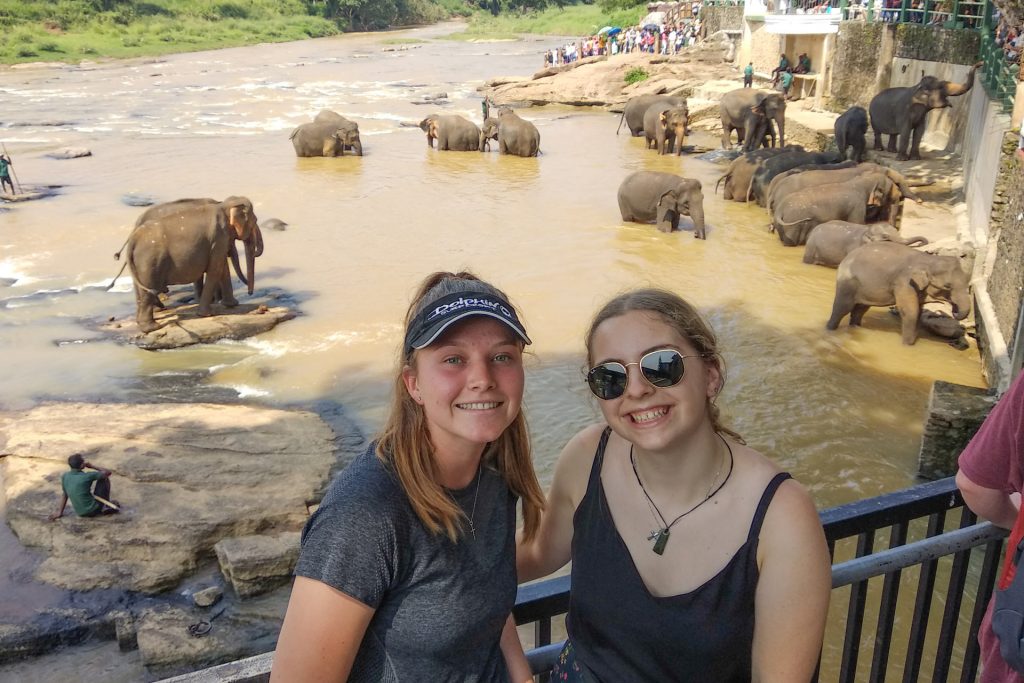 DAY 2:  LUNCH WITH ELEPHANTS, DAMBULLA CAVES
After breakfast, we depart for a very special lunch on the banks of the Oya River, where we will watch a herd of elephants from the Pinnawala elephant orphanage enjoying their daily swim in the river.  We then hit the road to visit the extraordinarily beautifully 2000-year-old UNESCO World Heritage Dambulla cave temples, and one of the largest fruit and vegetable markets in Sri Lanka. In the late after, noon we arrive into our lakeside hotel for dinner and a refreshing swim in their garden pool.
Breakfast/ Lunch/ Dinner

Sudu Araliya Hotel, Polonnaruwa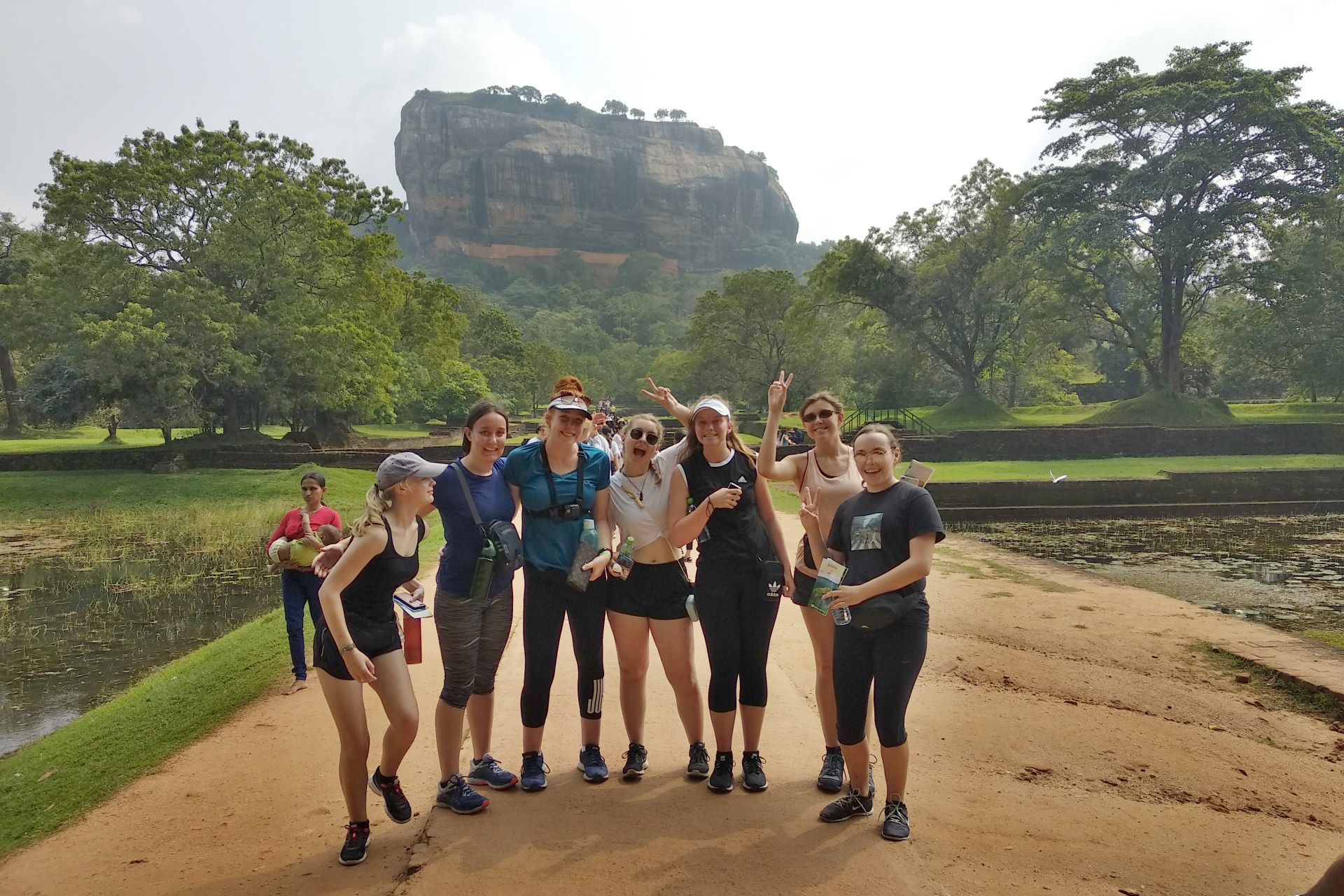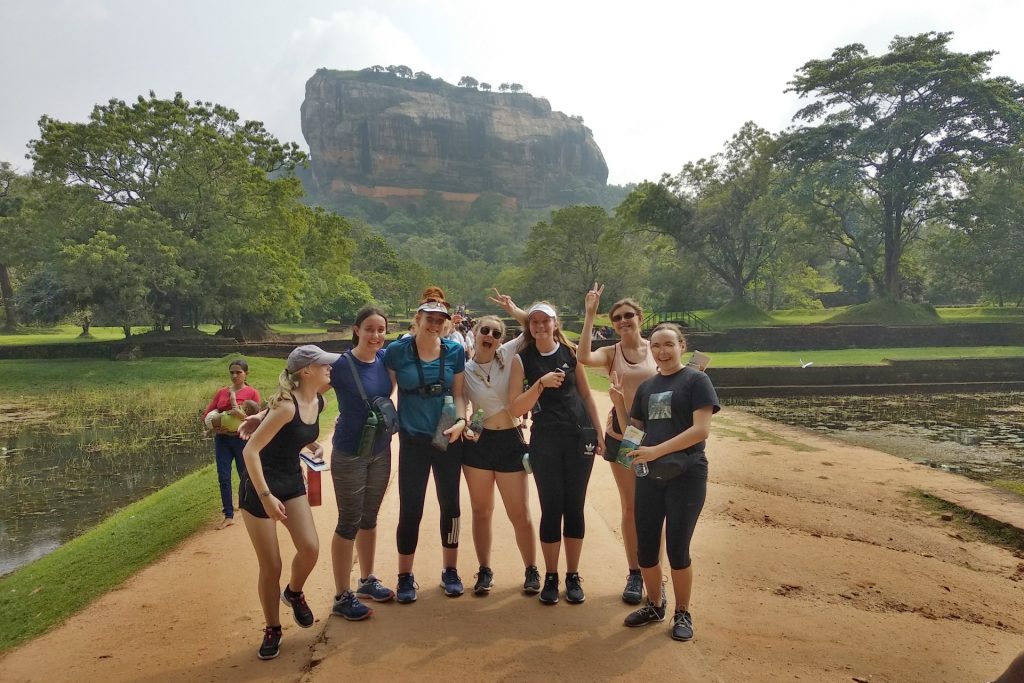 Day 3: SIGIRIYA FORTRESS AND WILDLIFE JEEP SAFARI
We head out early to beat the heat and the crowds to tackle the 1200 steps to the ruins of the 5th-century fortress on top of the summit of Sigiriya Lion Rock. Rising dramatically from the central plains, this iconic rocky outcrop is Sri Lanka's most famous World Heritage attraction, renown for its gardens, ancient graffiti, and panoramic views.
Restore your energy with a buffet lunch and swim and then it is safari time as we climb aboard our 4WD jeeps for an afternoon of wildlife viewing at Minneriya National Park. Dominated by the ancient reservoir created by the Anuradhapura Kingdom, the park is abundant in lush tropical forest and wetlands that provide shelter for sambar deer, buffalo, and crocodiles, and is one of the best places in the country to see wild elephants.
Breakfast/ Lunch/ Dinner

Sudu Araliya Hotel, Polonnaruwa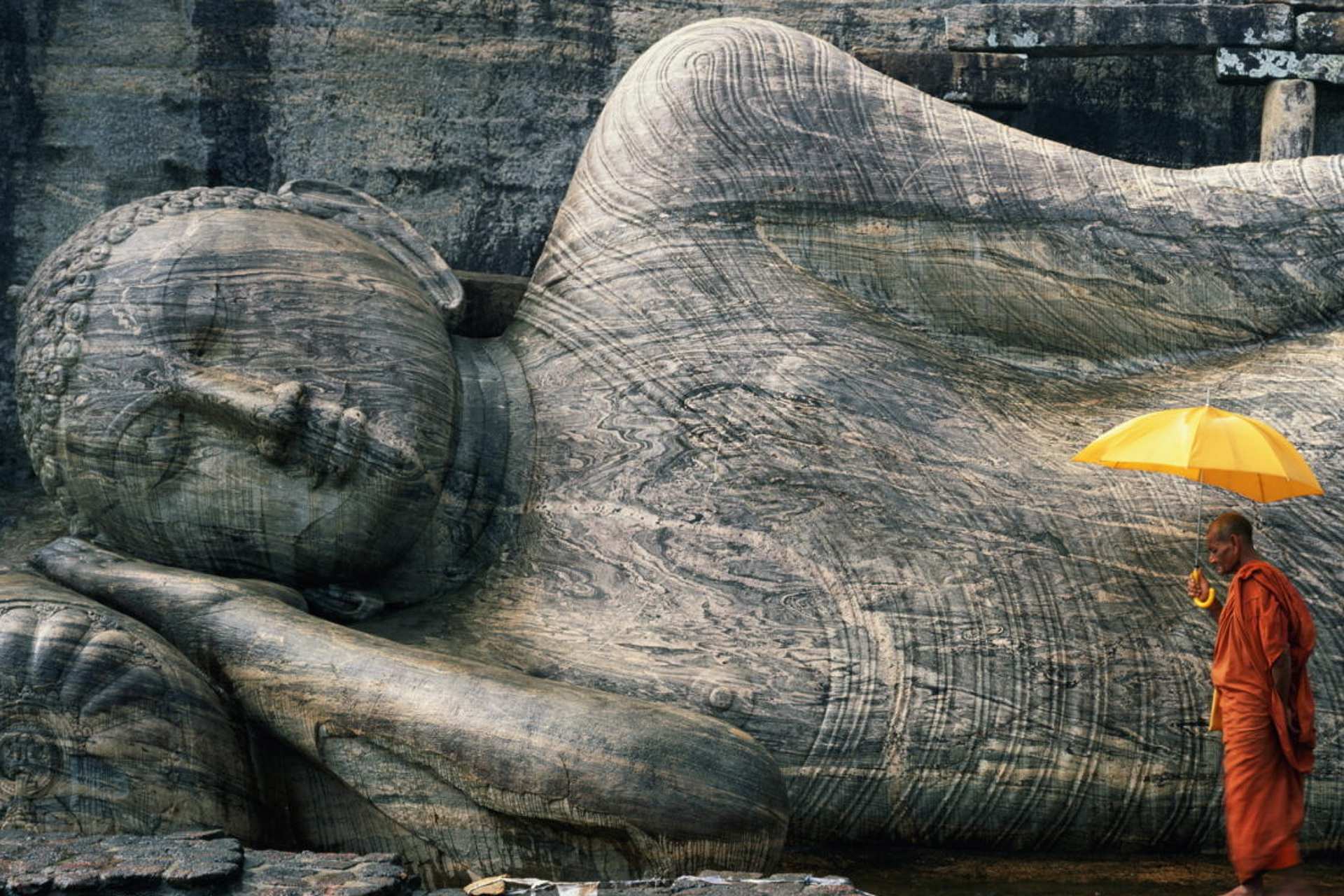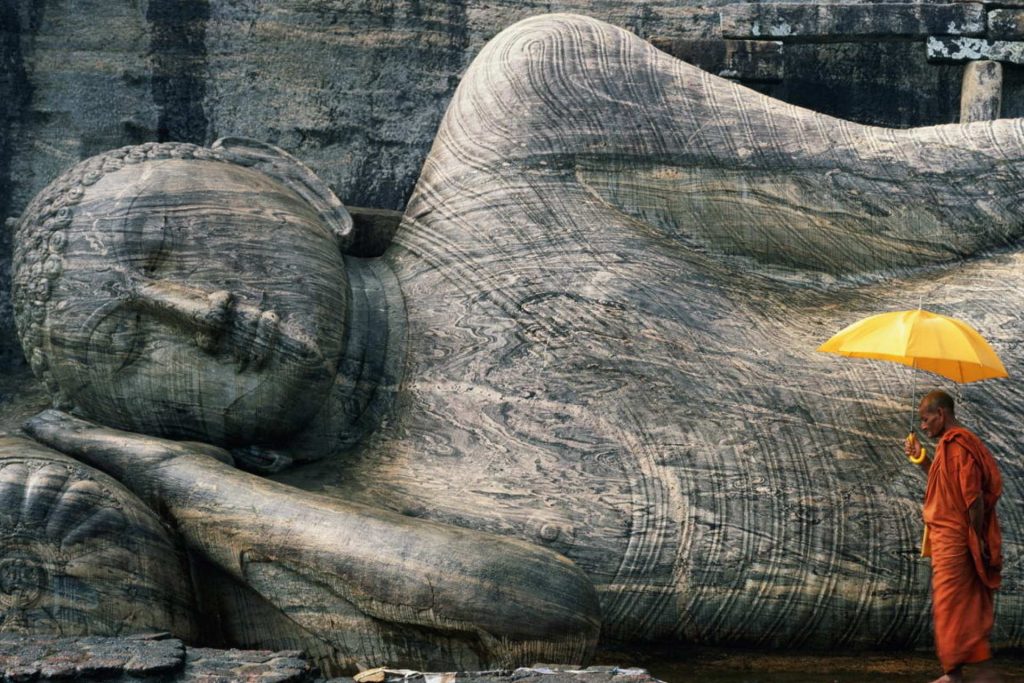 DAY 4: CYCLE TOURING POLONNARUWA ANCIENT CITY
Saddle up as we spend the morning winding through the hundreds of ancient Buddhist structures of Polonnaruwa, where ancient kings ruled Sri Lanka's central plains over 800 years ago. This UNESCO World Heritage site houses some of the most beautiful carved granite buddhas statues in the world. Our guide will show us the best of them and explain their significance. Polonnaruwa is also home to many hundreds of monkeys – so many that Disney filmed their movie "Monkey Kingdom" here.
After lunch we head south to our volunteering destination of Kandy, stopping at a spice farm in Matale to learn the exotic flavour secrets of Sri Lanka's beautiful cuisine and street food.
Breakfast/Lunch/Dinner

Green Lion Volunteer House, Kandy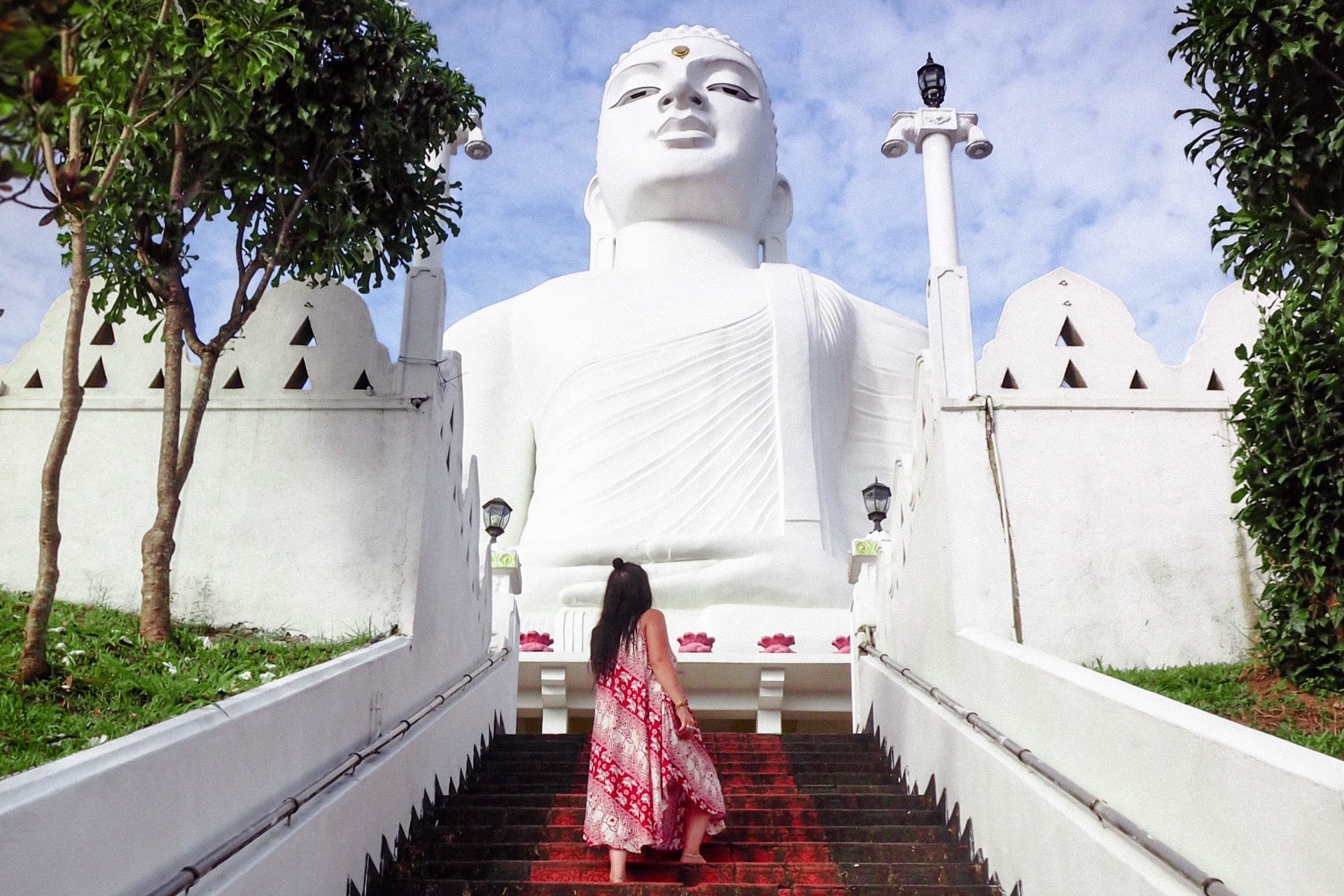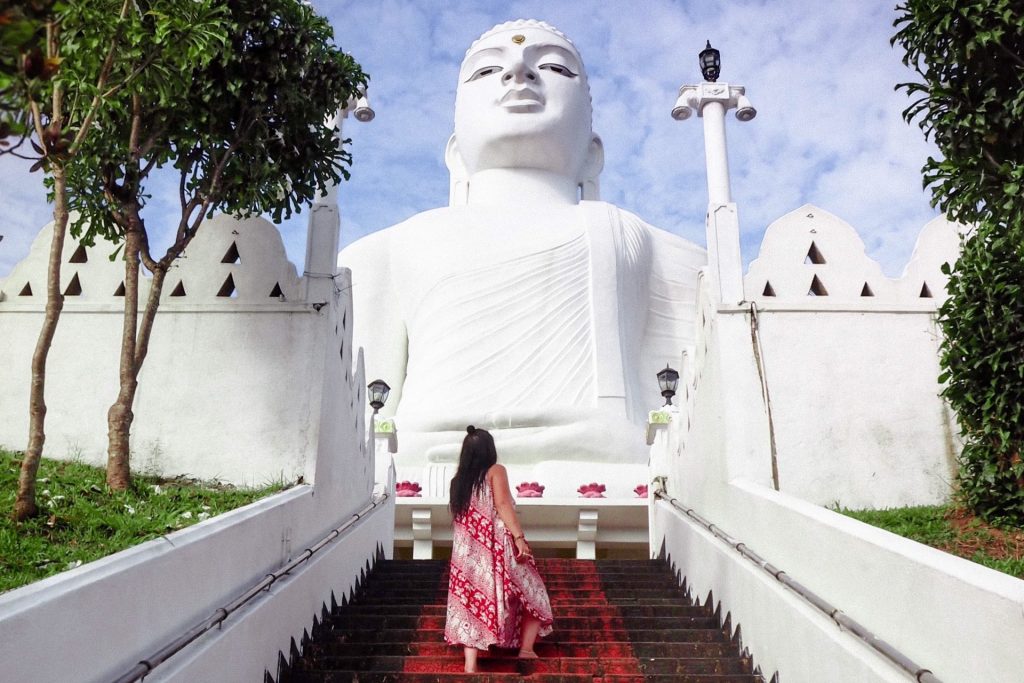 Day 5: Kandy-Orientation
Kandy is Sri Lanka's second largest city and base for your two weeks of volunteering. Surrounded by rain-forest clad hills and tea plantations, Kandy was the historic home of Sri Lanka's royal family and a favourite highland retreat for the colonial British citizens. 
We spend the morning having a comprehensive orientation to our volunteering projects, safety, security and local travel, and get to meet the friendly Green Lion team who will be managing our volunteer projects. After lunch, we take off in iconic Sri Lankan tuk-tuks for a tour of some of the more popular attractions in Sri Lanka, including the Bakiravakanda White Buddha statue, and the gold-roofed Temple of the Tooth, a highly sacred place of worship that is believed to house a tooth of Buddha. We round off the evening with a performance of Kandyan cultural dancing and firewalking! (Don't try this at home).
Breakfast/Lunch/Dinner

Green Lion Volunteer House, Kandy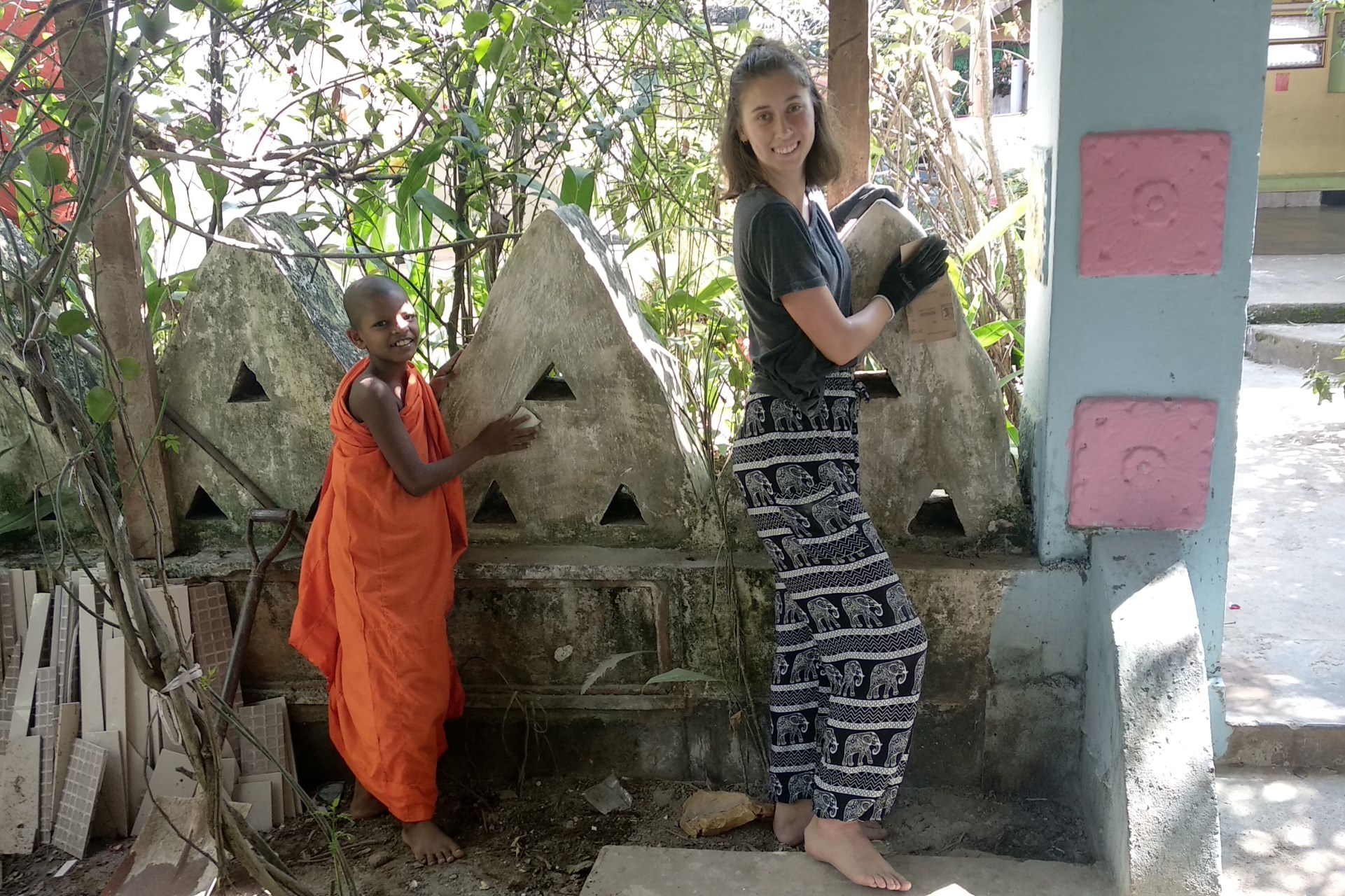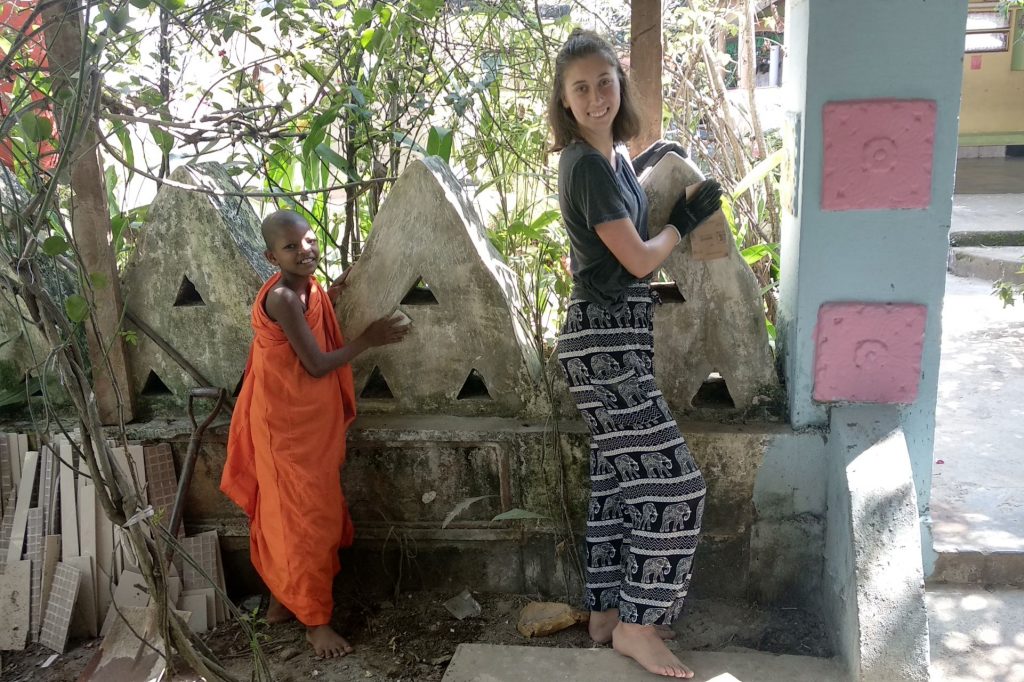 DAY 6-9: COMMUNITY VOLUNTEERING – TEMPLE RESTORATION
Sri Lanka is a devoutly Buddhist country. Helping to restore and repaint a community Buddhist temple will be a lot of fun and give you an opportunity to gain a greater appreciation of the Buddhist Religion and how it influences Sri Lankan culture. You will travel to your work project by public transport each morning, and have afternoons free to explore Kandy, so there will be plenty of time to interact with people in the local community.
In the afternoons, you might take optional tours to locations including the Kandy Botanical Gardens, Tea Factory, Kandy Markets.
Breakfast/Lunch/Dinner           

Green Lion Volunteer House, Kandy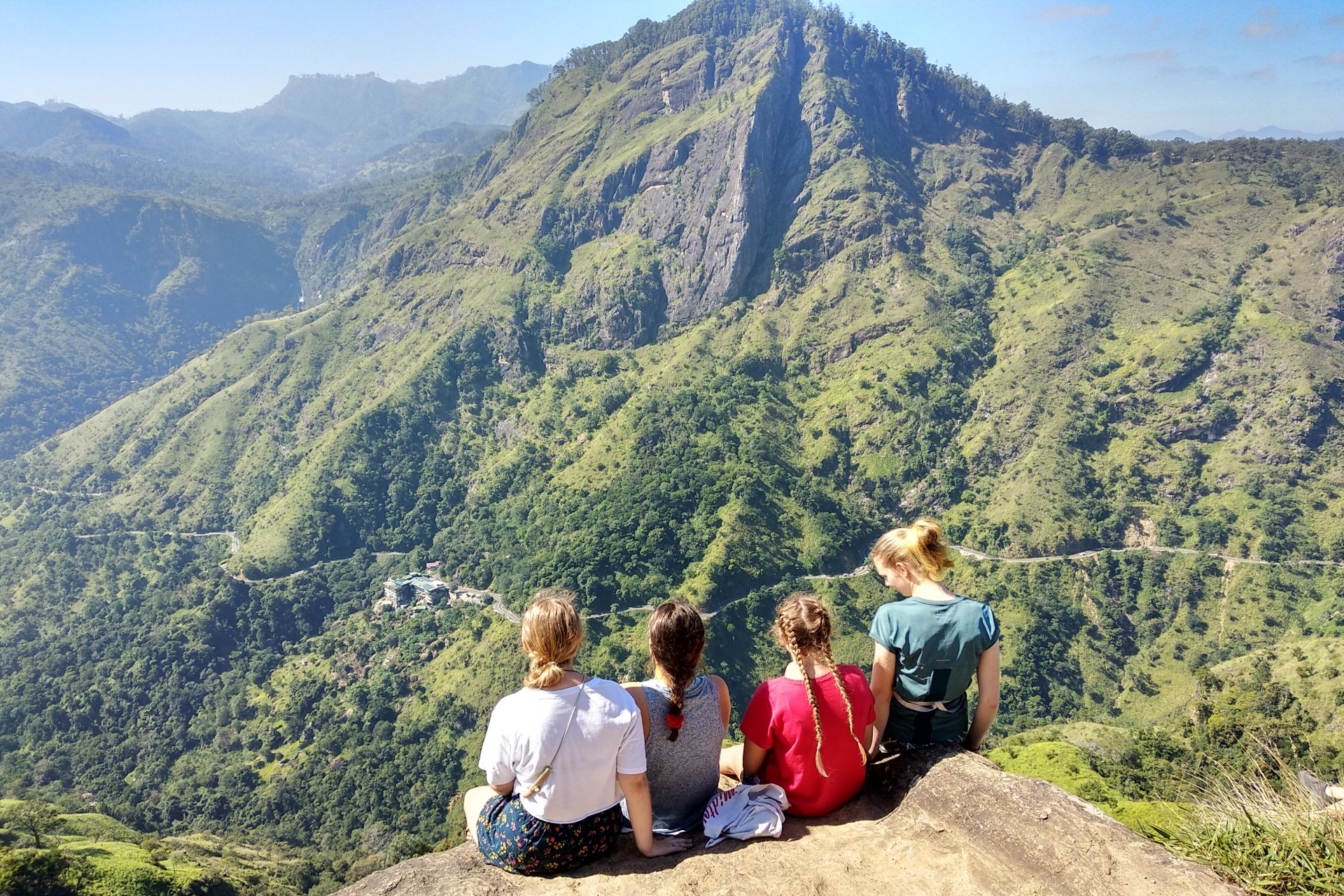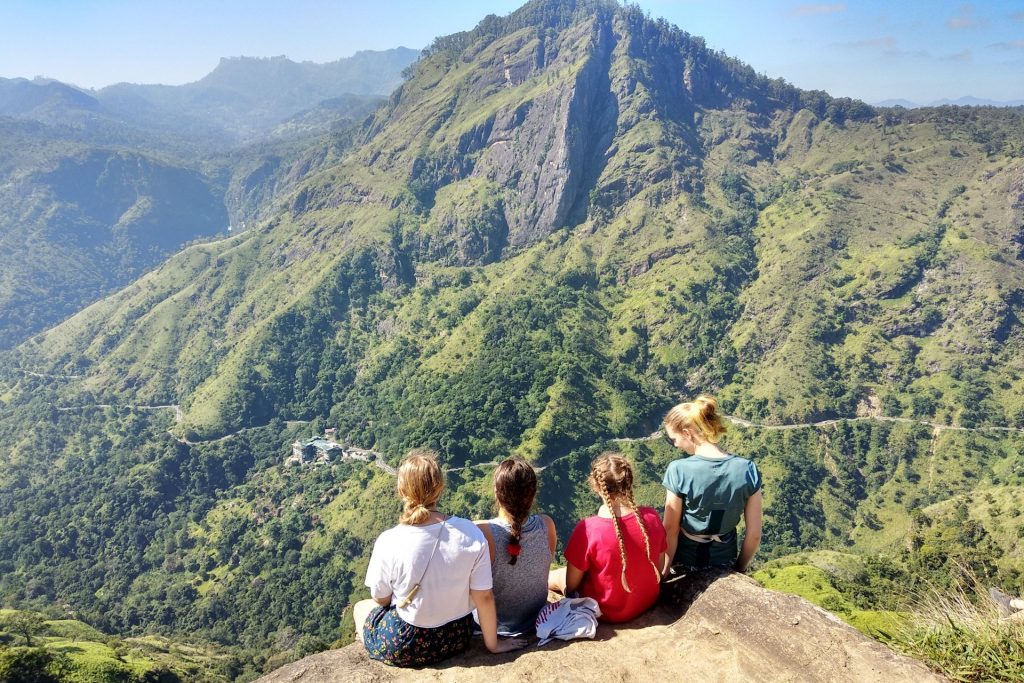 DAY 10: NINE ARCHES BRIDGE AND LITTLE ADAM'S PEAK
There is something romantic and exotic about slow train travel through beautiful scenery.  The six-hour train journey through the Sri Lankan highlands considered the most beautiful train journey in Asia and possibly in the world. You'll have reserved seats in a carriage with large open windows, as we wind through misty valleys, past rushing waterfalls and vast tea plantations, across viaduct bridges and through small villages and many tunnels until we arrive into the popular mountainside town of Ella. After checking into our accommodation we climb into tuk-tuks for an exploration of the area, visiting the beautiful Demodara Nine Arches railway bridge for an Instagram worthy selfie, before hiking to the summit of Little Adam's Peak for a breathtaking view of the imposing Ella Rock.
Brunch/ Dinner

Hangover Hostel, Ella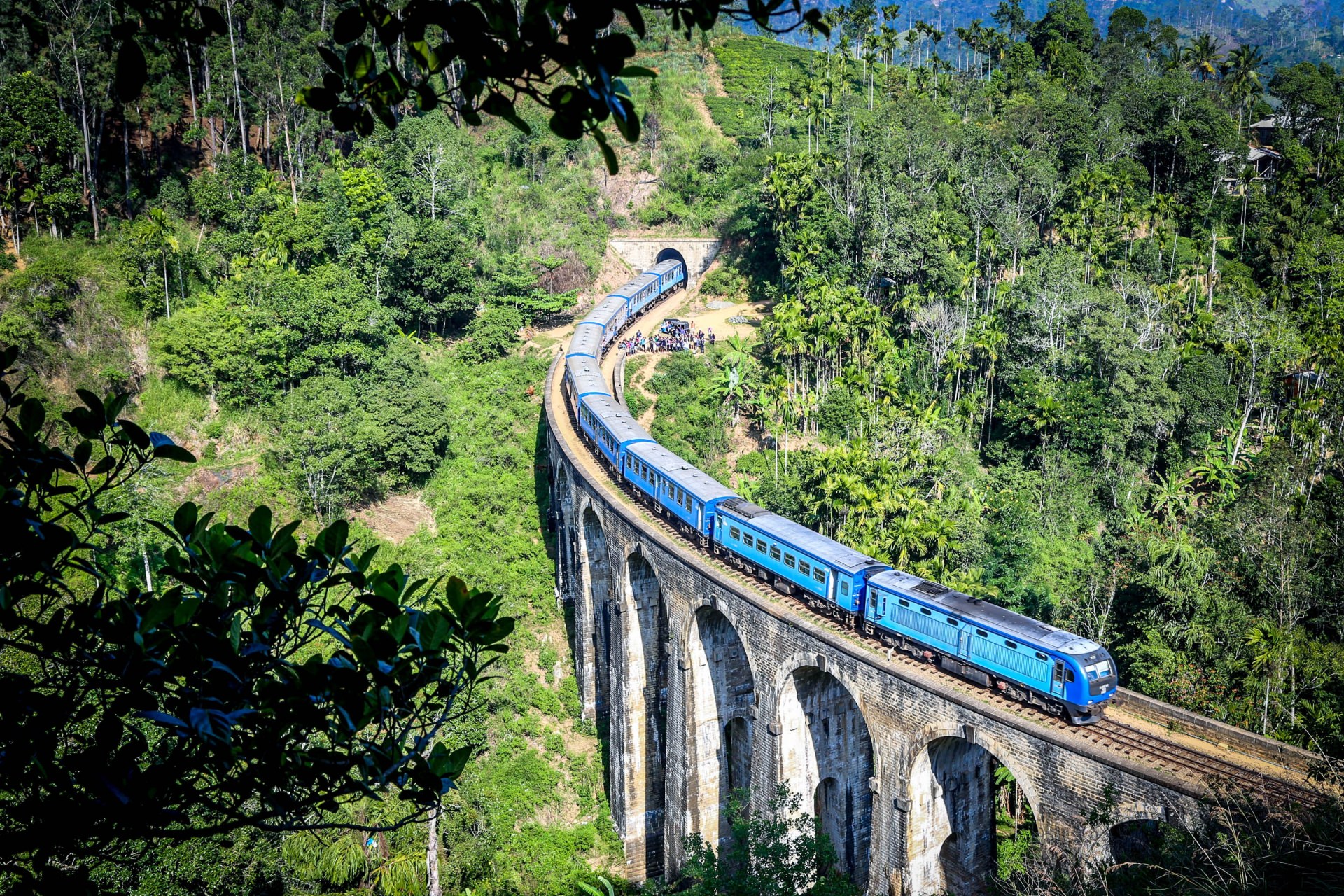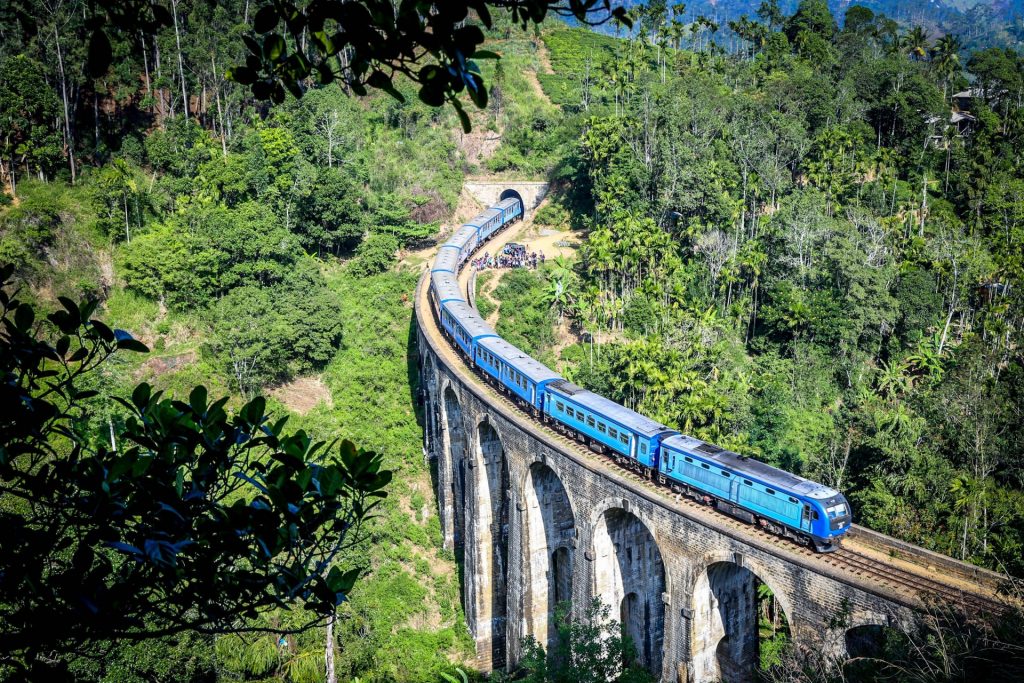 DAY 11: THE WORLD'S MOST BEAUTIFUL TRAIN RIDE
When something is the best in the world, why not do it twice? After breakfast its back onto the train, for the return journey to Kandy, and the opportunity to appreciate the scenery you missed travelling in the opposite direction.
Brunch/Dinner

Hangover Hostel, Ella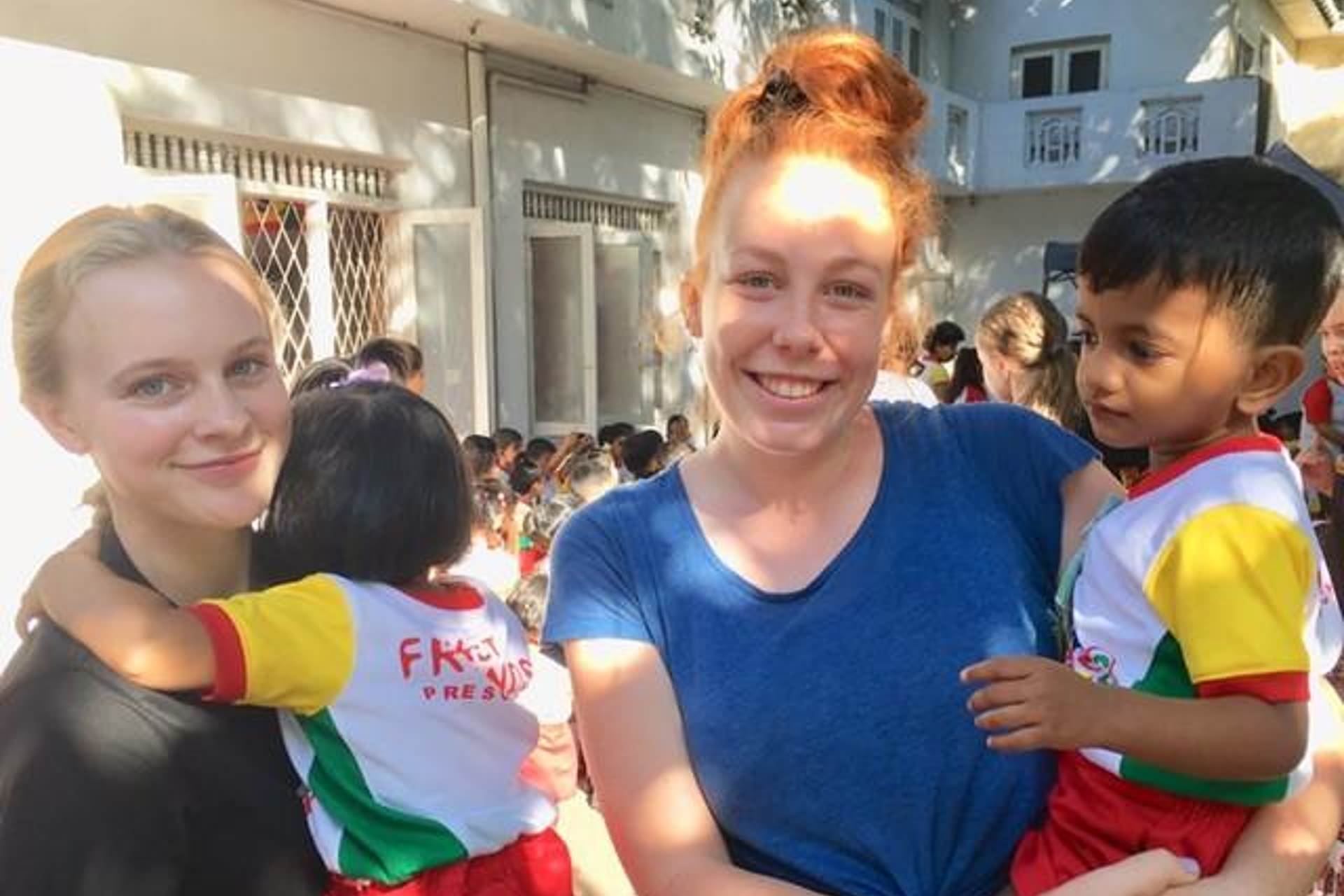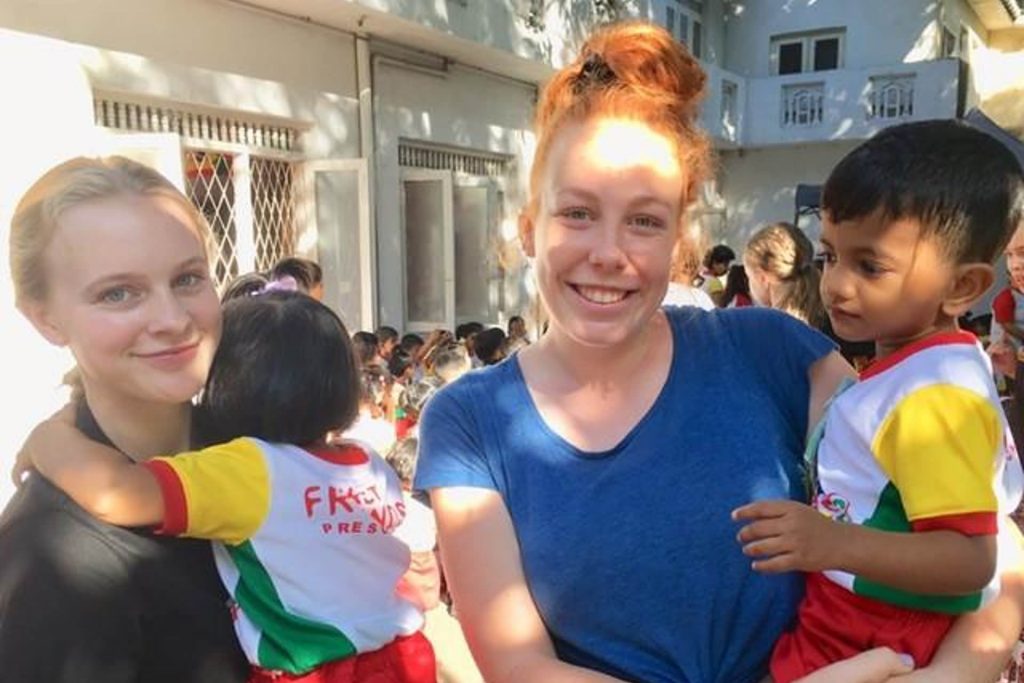 DAY 12-16:  COMMUNITY VOLUNTEERING – CHILD CARE
Continuing the community focus of our volunteering, this week you will provide assistance, attention and emotional support to the children in a local childcare centre. Local staff are often overworked and do not have time to give children the individual attention they need. Your role will include playing games, helping with homework, and doing basic maintenance such as cleaning, gardening and painting. You can expect your time with the children to be fun, humbling and very fulfilling.
Breakfast/Lunch/Dinner

Green Lion Volunteer House, Kandy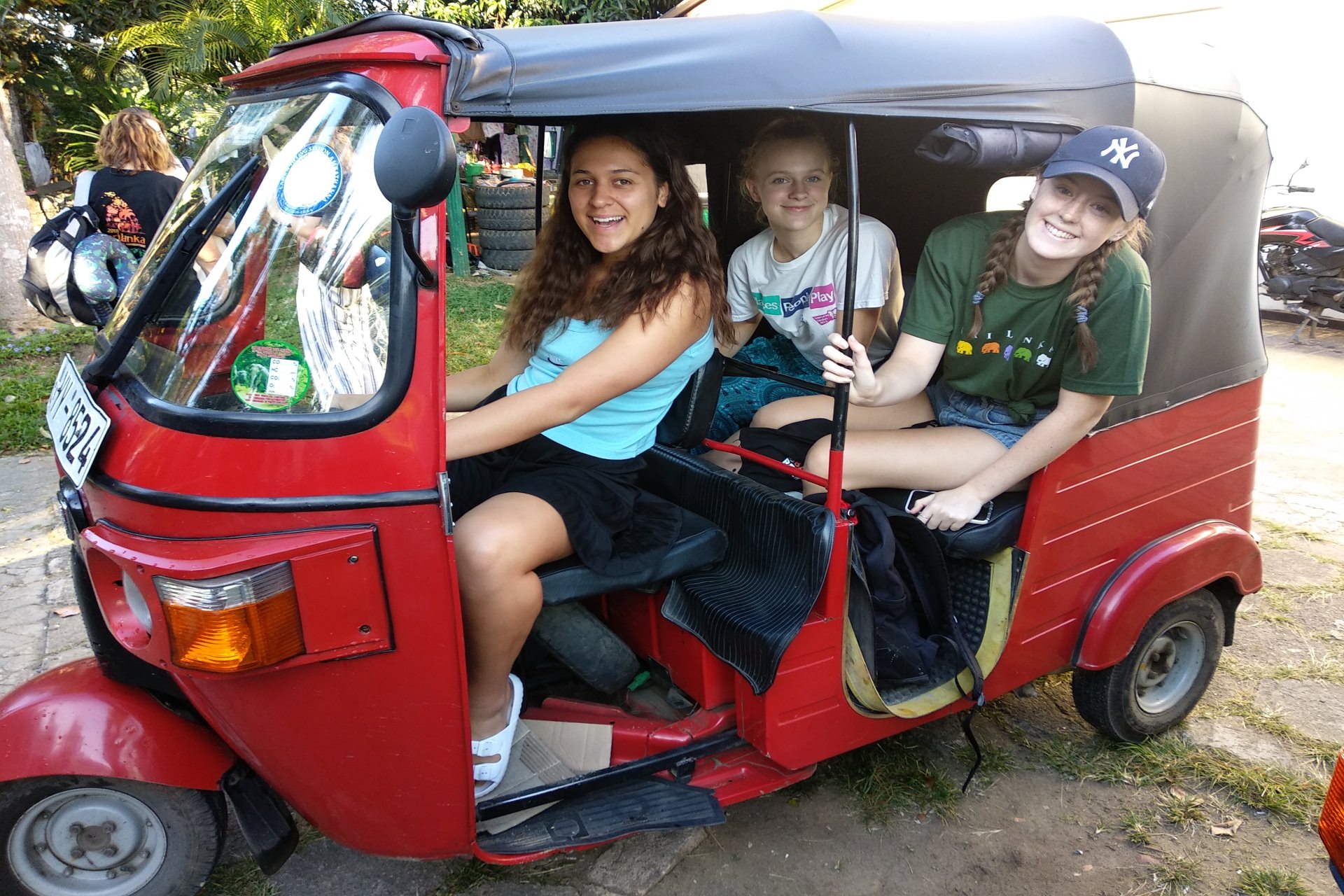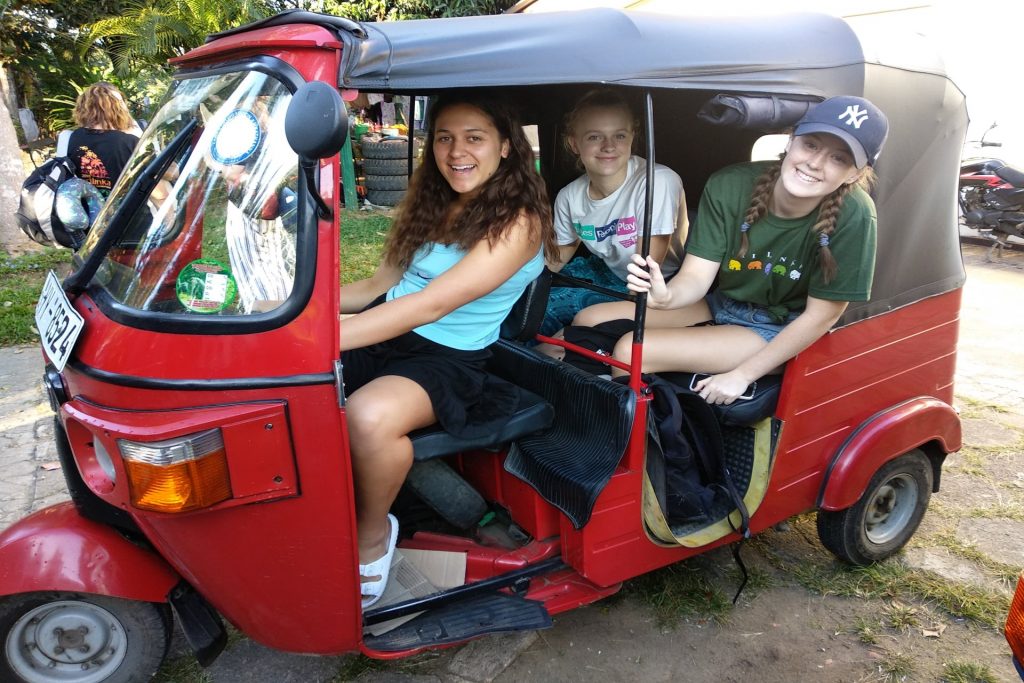 DAY 17:  KANDY FREE DAY
Relax, catch your breath, have a deserved sleep-in and reflect on the week, then spend the day ticking off your bucket list of activities you hadn't completed in Kandy and say your goodbyes to new friends before our departure tomorrow.
Brunch/Dinner          

Green Lion Volunteer House, Kandy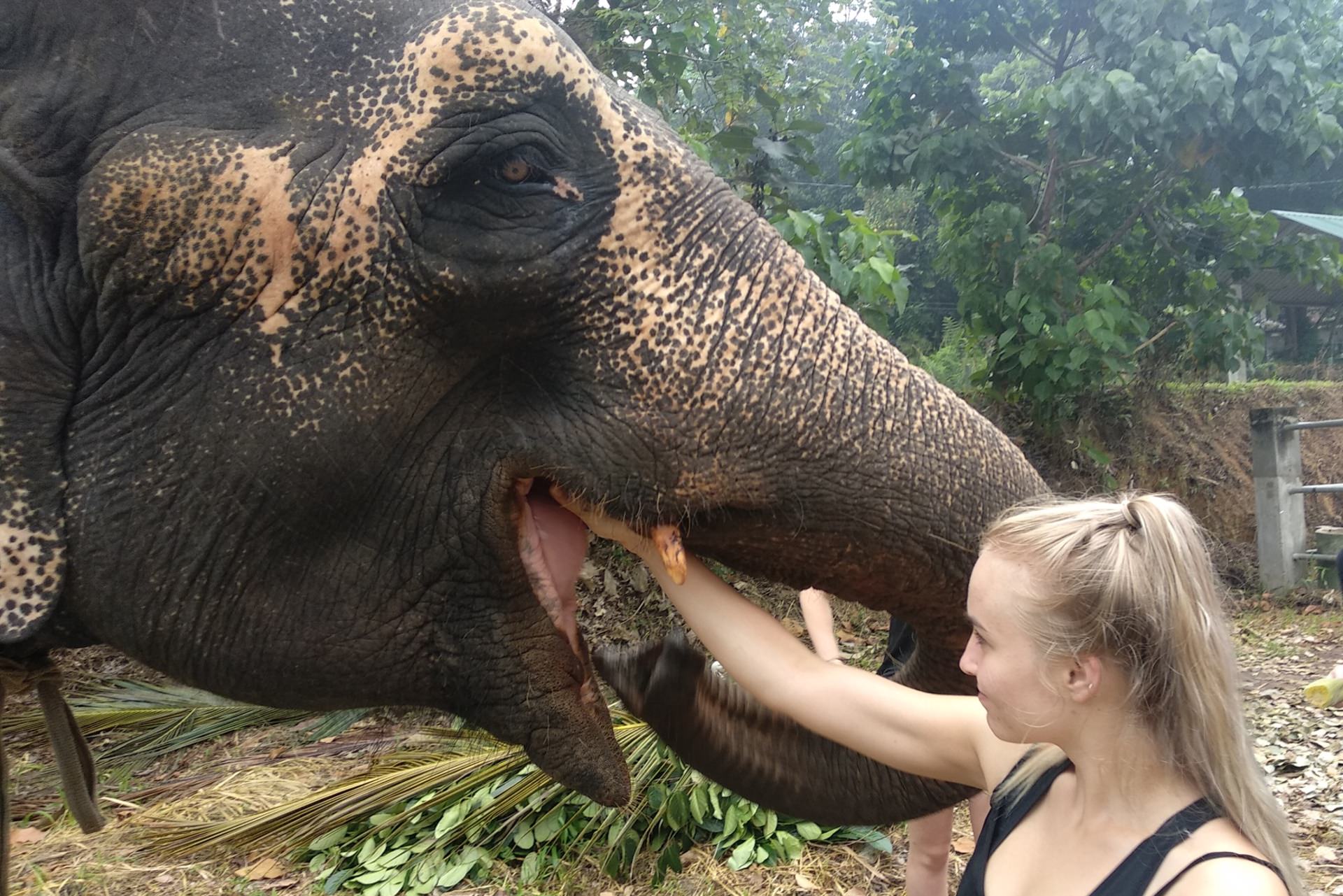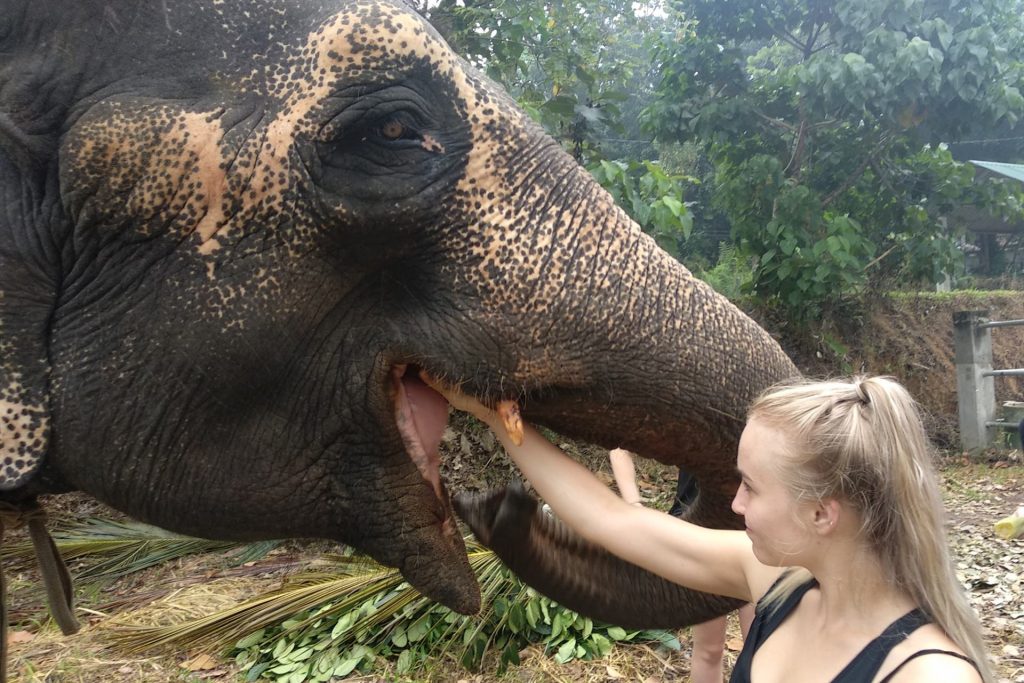 DAY 18-19:  ELEPHANTS UP CLOSE AND PERSONAL
Oh, just a couple of the best days ever! We travel west to the village of Kegalle to spend two days volunteering at the Millennium Elephant Foundation, a Sri Lankan leader in the ethical rehabilitation of retired working elephants. MEF have up to 10 retired elephants and as well as assisting in duties around the sanctuary, you will spend an unforgettable time among the elephants, learning about them, feeding and observing them and even getting to bathe an elephant in the river!
Breakfast/Lunch/Dinner          

MEF Volunteer Dormitory, Kegalle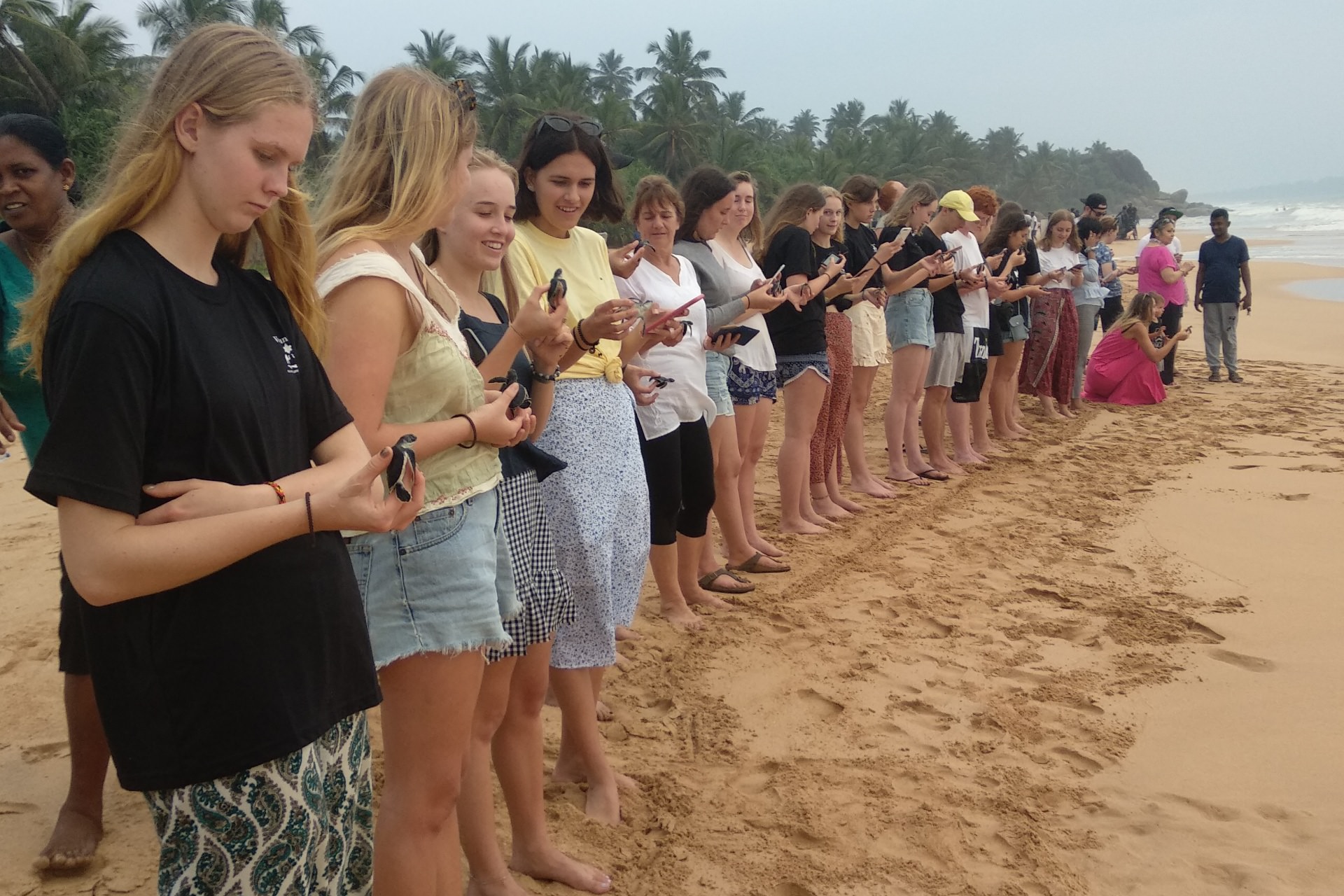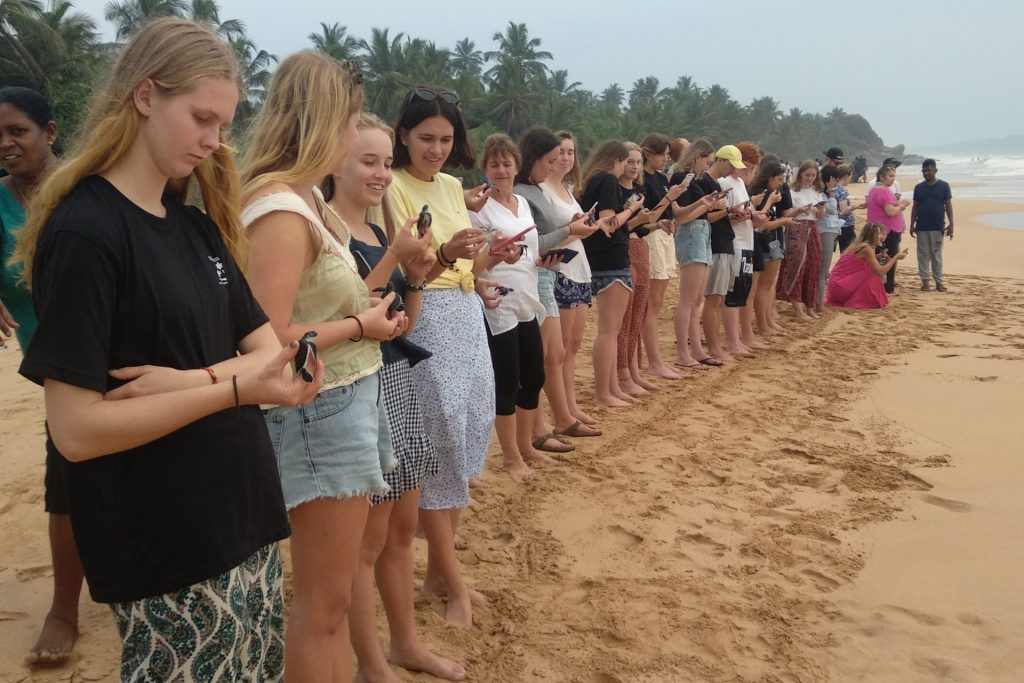 DAY 20:  SUN, SAND AND SEA-TURTLE SAVIORS
This morning we bid goodbye to the largest of creatures, and turn our attention to wildlife welfare that is much much smaller, but no less deserving. We journey west to Sri Lanka's beautiful sunset coast, checking into our hotel right on the sand at Induruwa Beach. Spend the afternoon lazing by the pool, drinking smoothies, or exploring the palm-fringed beach.
Late afternoon we visit the highly respected Sea Turtle Conservation project at Kosgoda, where we will learn about their work protecting and incubating the eggs of highly endangered sea turtles. As the sun sets over the Indian Ocean you'll have the super cool opportunity to help release newly hatched turtles back into the sea. Later, we toast our experiences across Sri Lanka at a torchlit BBQ on the beach.
Breakfast/Lunch/Dinner          

Rockside Beach Resort, Induruwa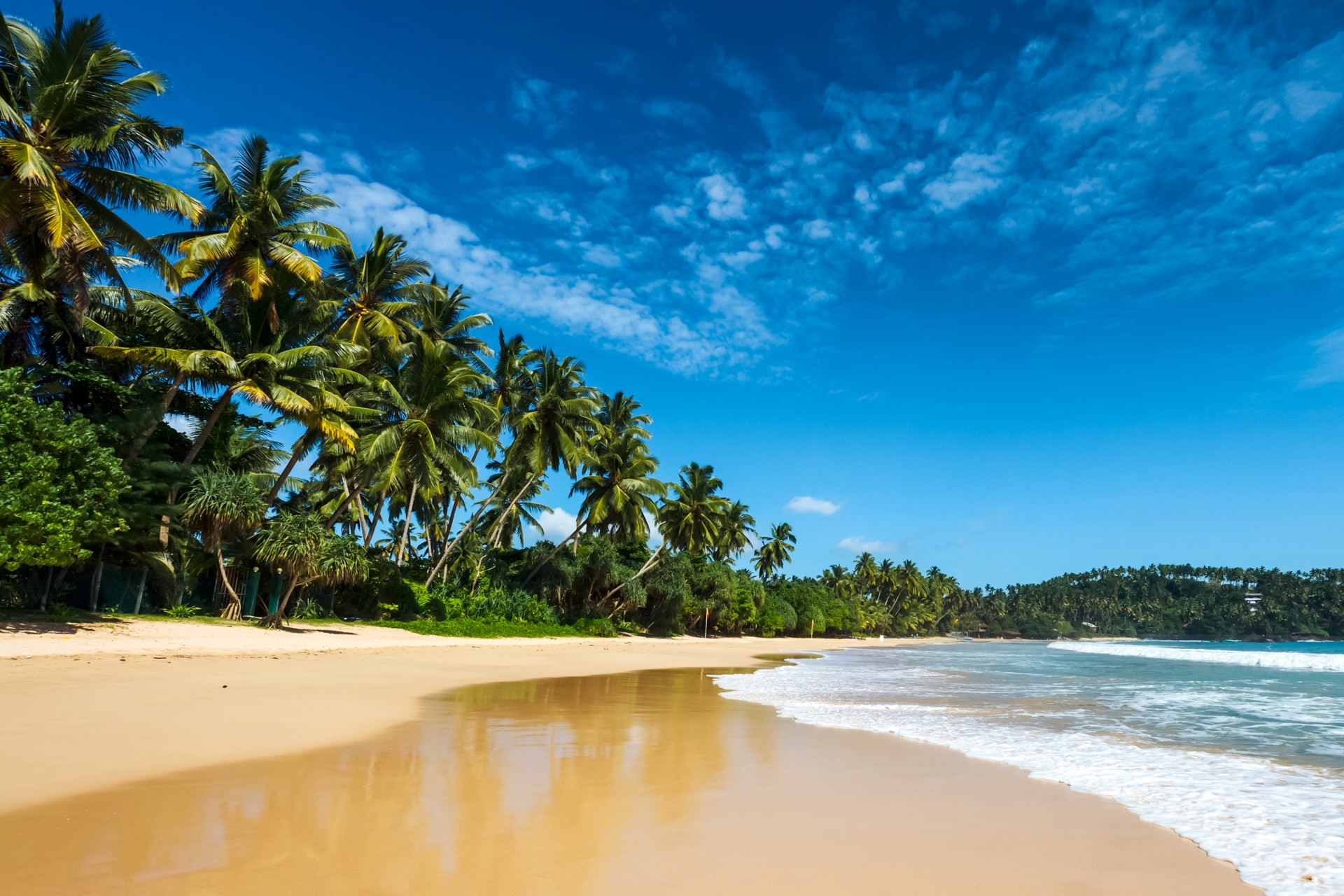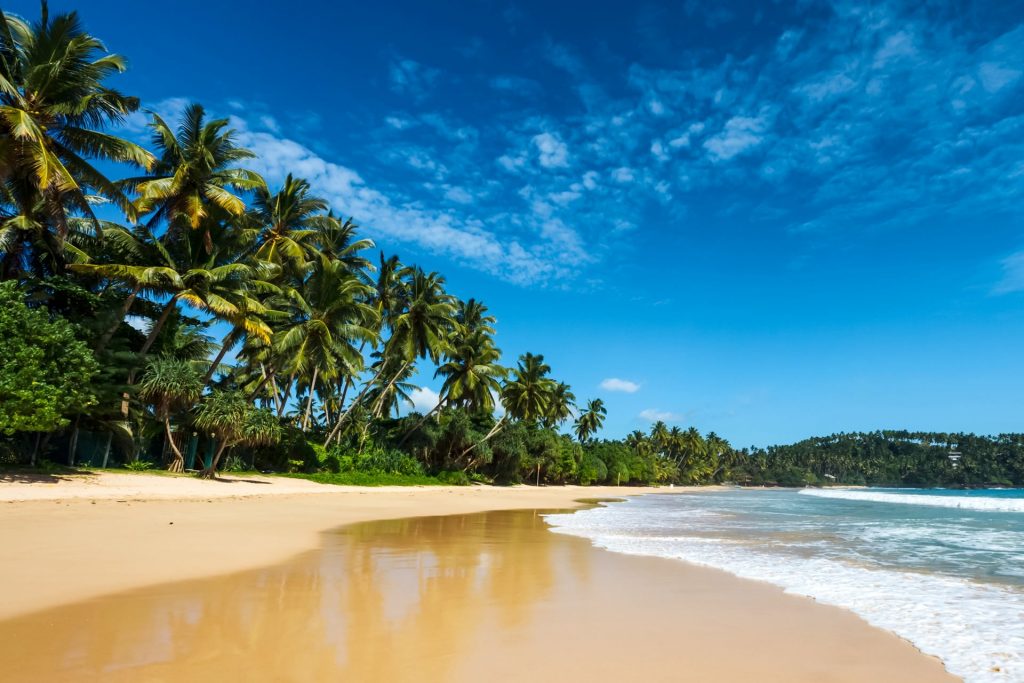 DAY 21:  SO LONG CEYLON
Its our final day in Sri Lanka, so you have the morning to spend lazing by the pool, swimming in the sea, and catching up on journal entries. In the afternoon you'll head a couple of hours up the coast for some last-minute souvenir shopping in the Sri Lankan capital city of Colombo, before a final dinner and late night departure.
Breakfast/Lunch/Dinner          

Overnight flight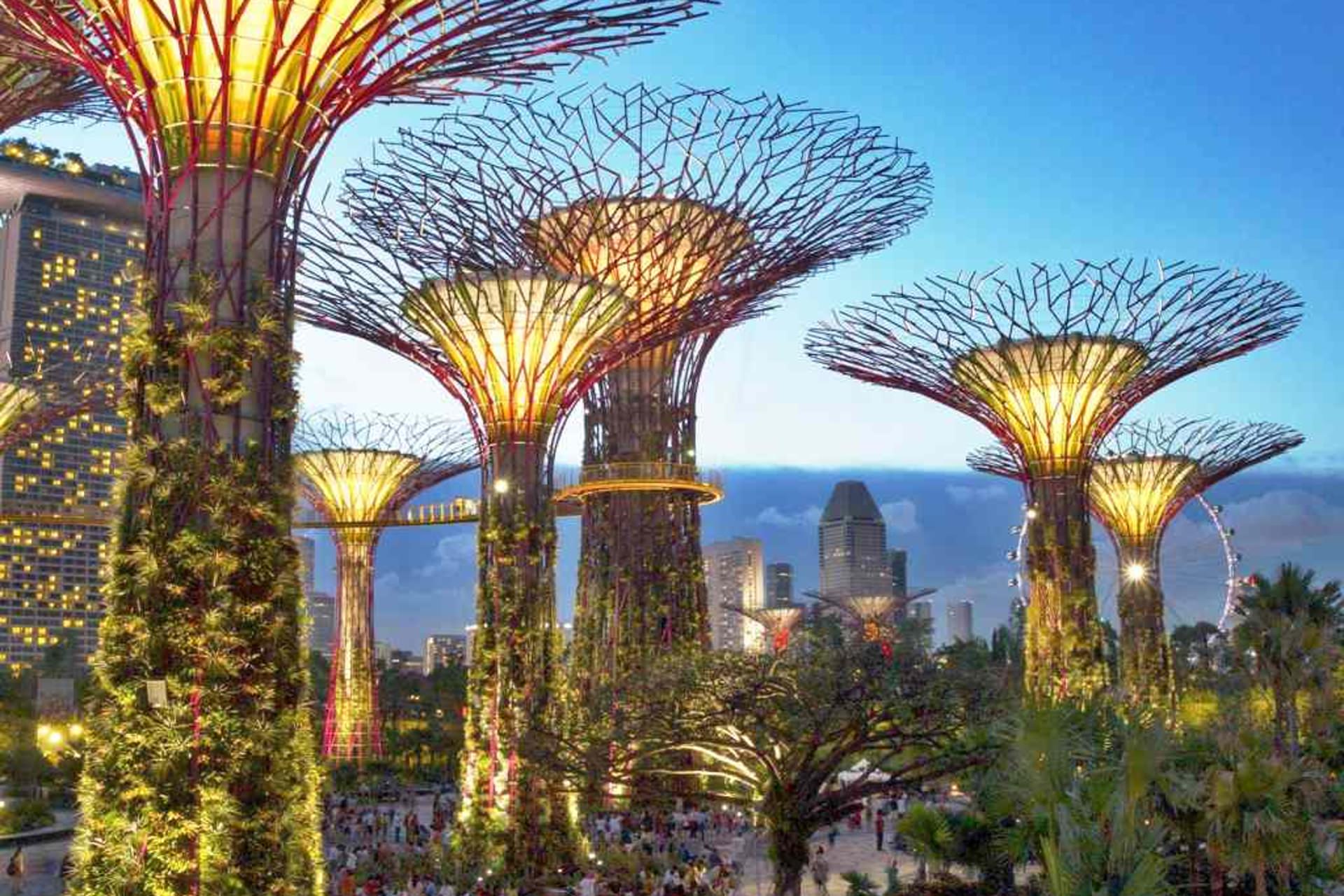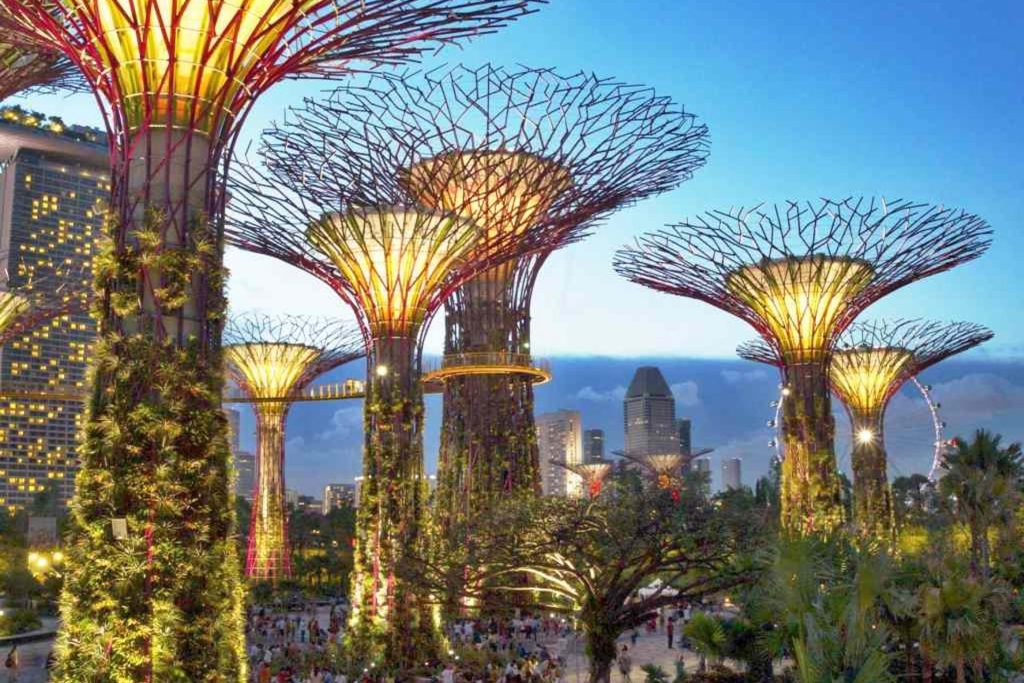 ** DAY 22-24 – OPTIONAL 3 DAY/2 NIGHT SUPER SINGAPORE STOPOVER **
Singapore is a melting pot where the old and traditional rub shoulders with the ultra-modern.
We have the opportunity to add a fabulous two-night stopover in Singapore, including a walking tour of traditional Chinatown, watching the sunset over the city from the 55th story Marina Bay Skydeck, taking in the magical Gardens of the Bay Rhapsody Sound and Light show, and spending an entire day at Universal Studios Singapore.
Colombo Airport
Dambulla Caves
Sigiriya, Sri Lanka
Polonnaruwa, Sri Lanka
Kandy
Ella, Sri Lanka
Kegalle
Induruwa
Accommodation 
Accommodation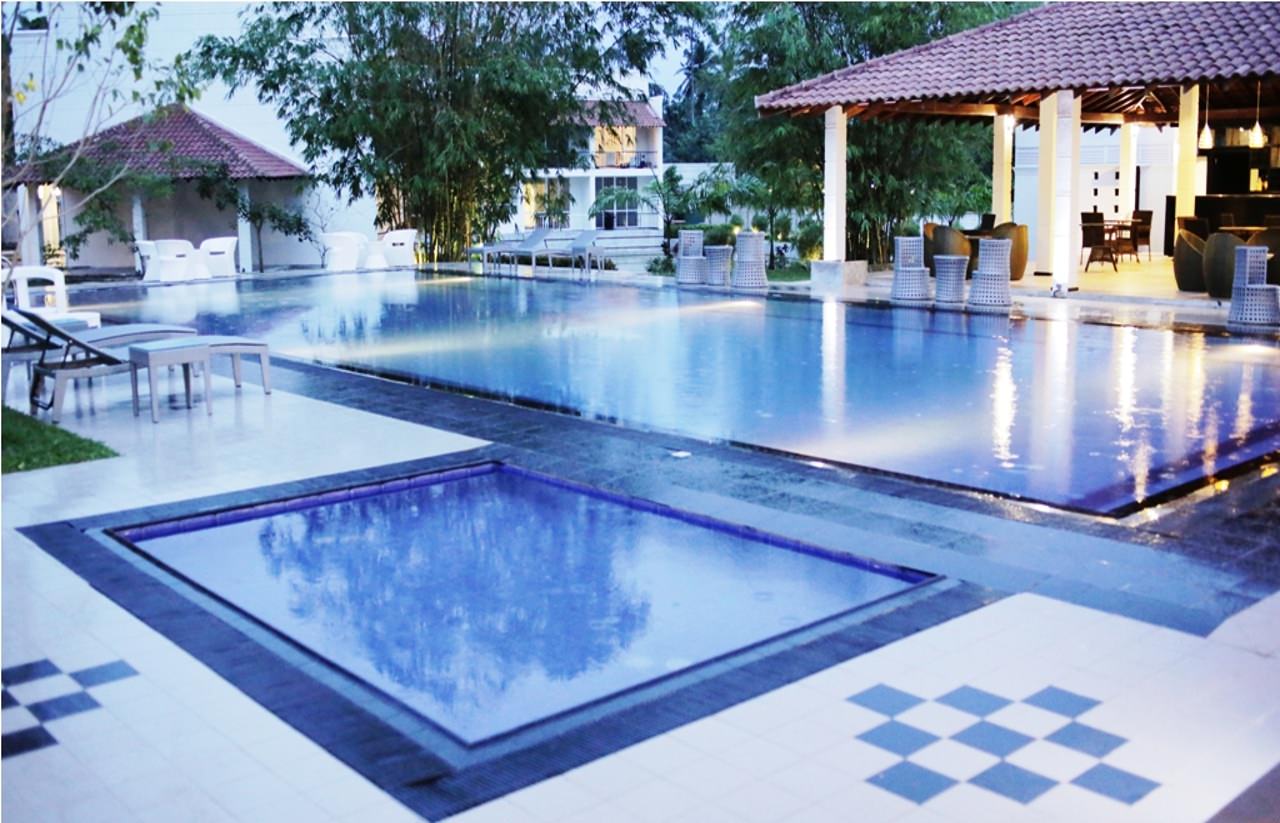 The Covanro is a modern hotel 20 minutes drive from the Bandaranaike Airport.  The hotel offers a large outdoor swimming pool and fitness centre. Students will be in twin or triple rooms.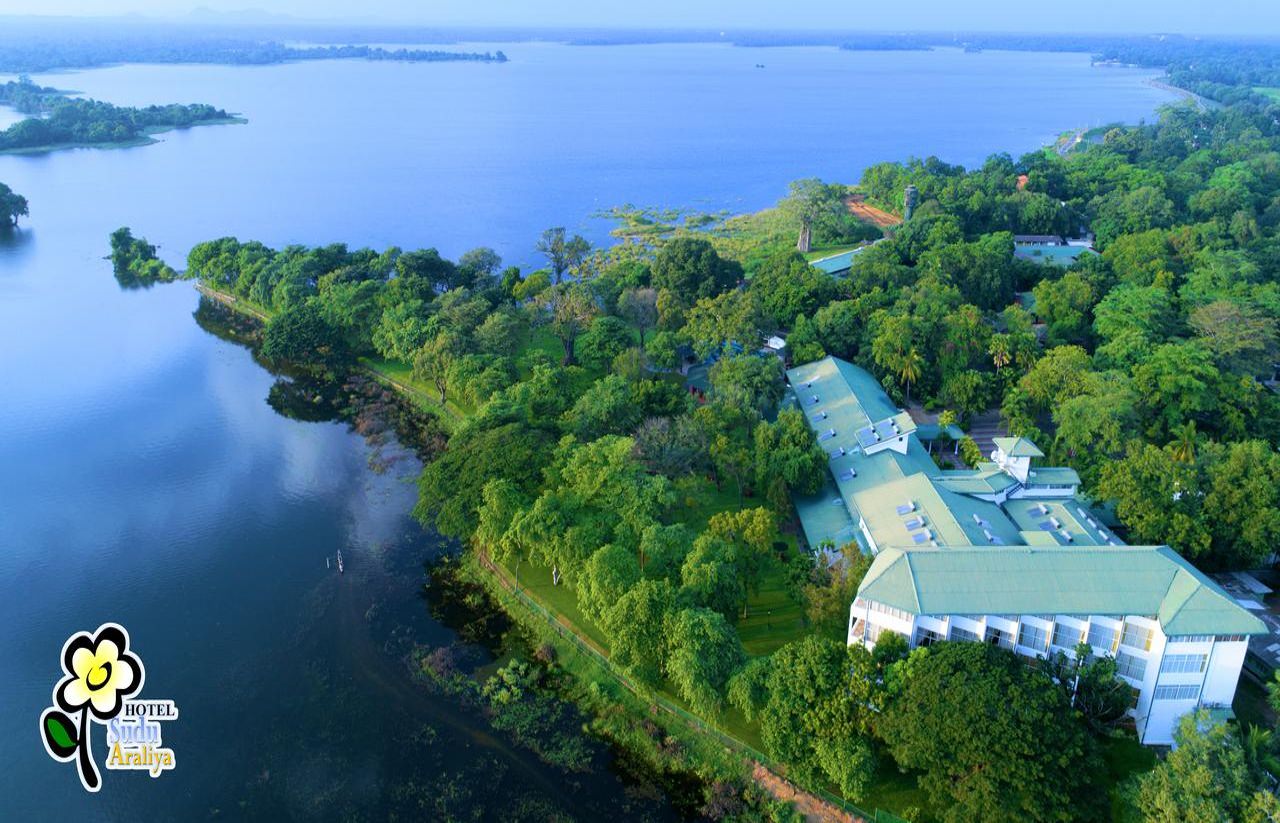 Hotel Sudu Araliya, Polonnaruwa
The Sudu Araliya is an attractive hotel on spacious grounds on the banks of the Parakrama Reservoir, a 10 minute drive from the Polonnaruwa ancient kingdom UNESCO World Heritage Site. The hotel has a large outdoor pool, fitness centre, and spa and wellness centre. Students will be in twin and triple rooms.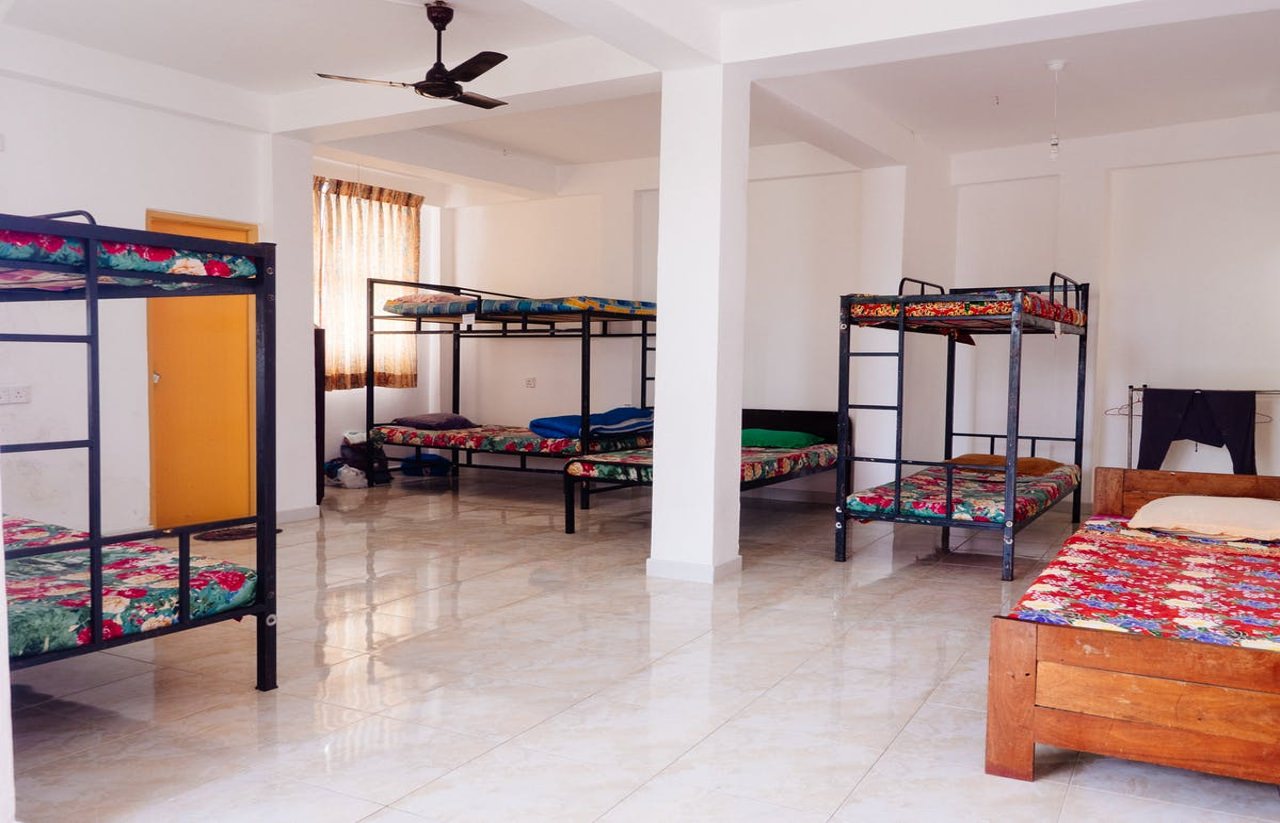 Green Lion Volunteer House, Kandy
While volunteering in Kandy you will be living in one of the Green Lion volunteering houses in central Kandy. Accommodation is comfortable, in single-sex dormitories, with three meals per day.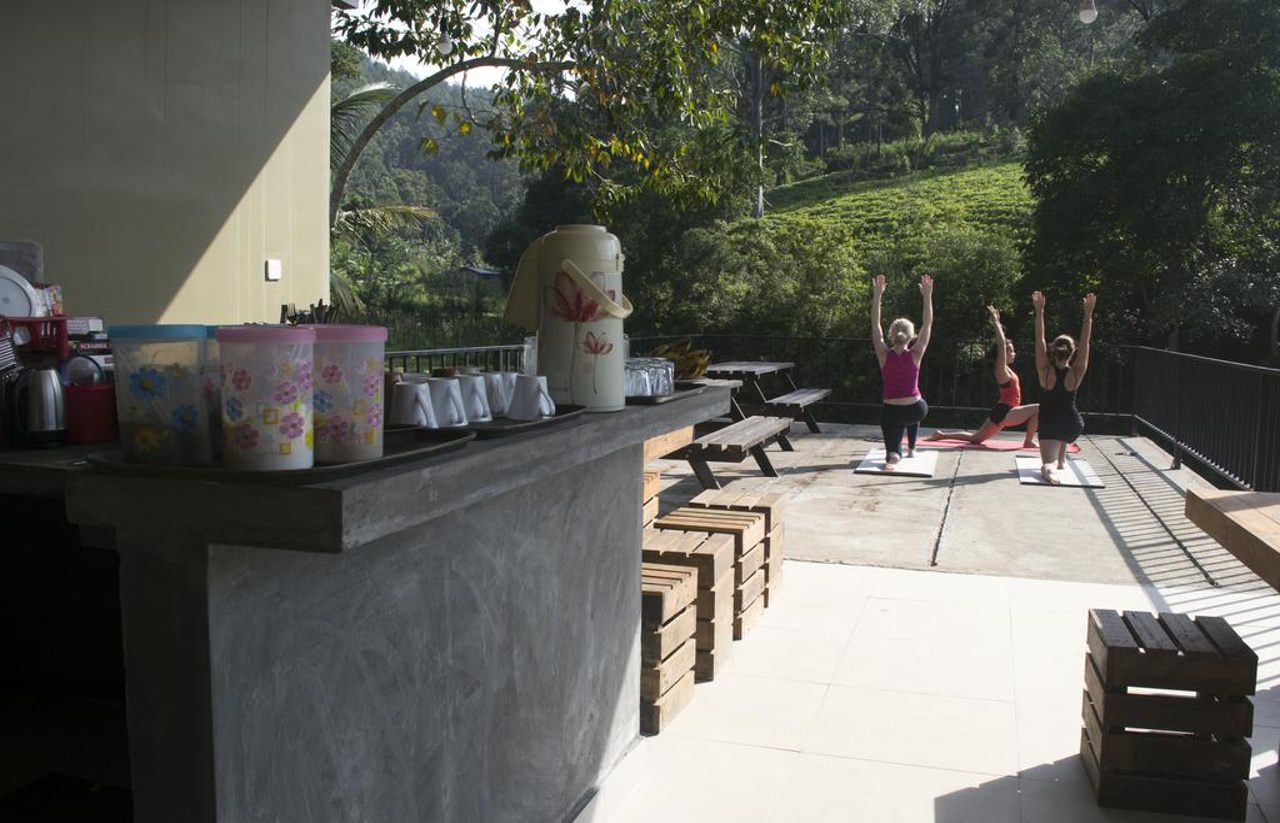 Hangover Hostel is a new backpacker hostel in the centre of Ella, only a few hundred metres from the Ella train station. The hostel is extremely popular due to its high quality, clean and spacious facilities. Students will stay in single-sex 6-8 person dormitories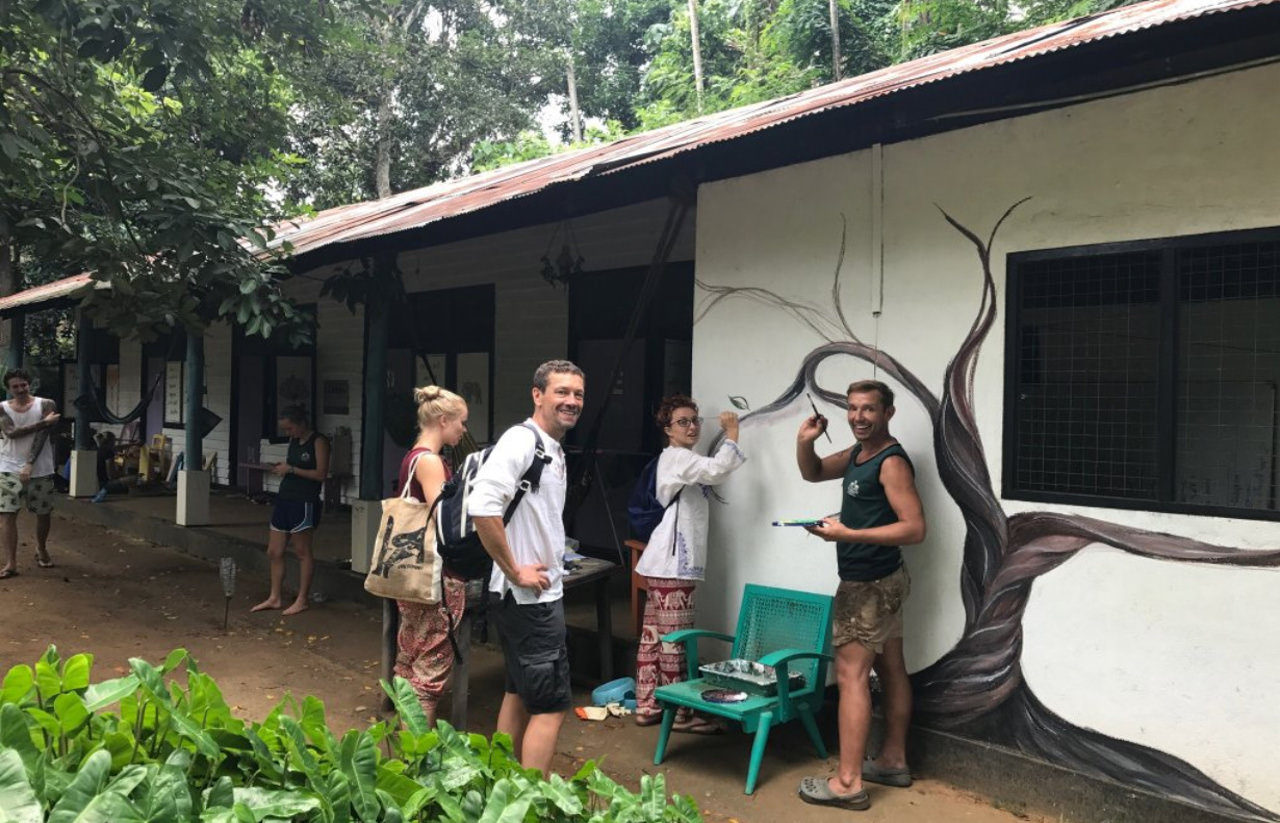 Millennium Elephant Foundation, Kegalle
The Volunteer dormitory accommodation in Kegalle is basic but includes mosquito nets on the beds, linen, outside bathrooms, and 3 homecooked meals per day.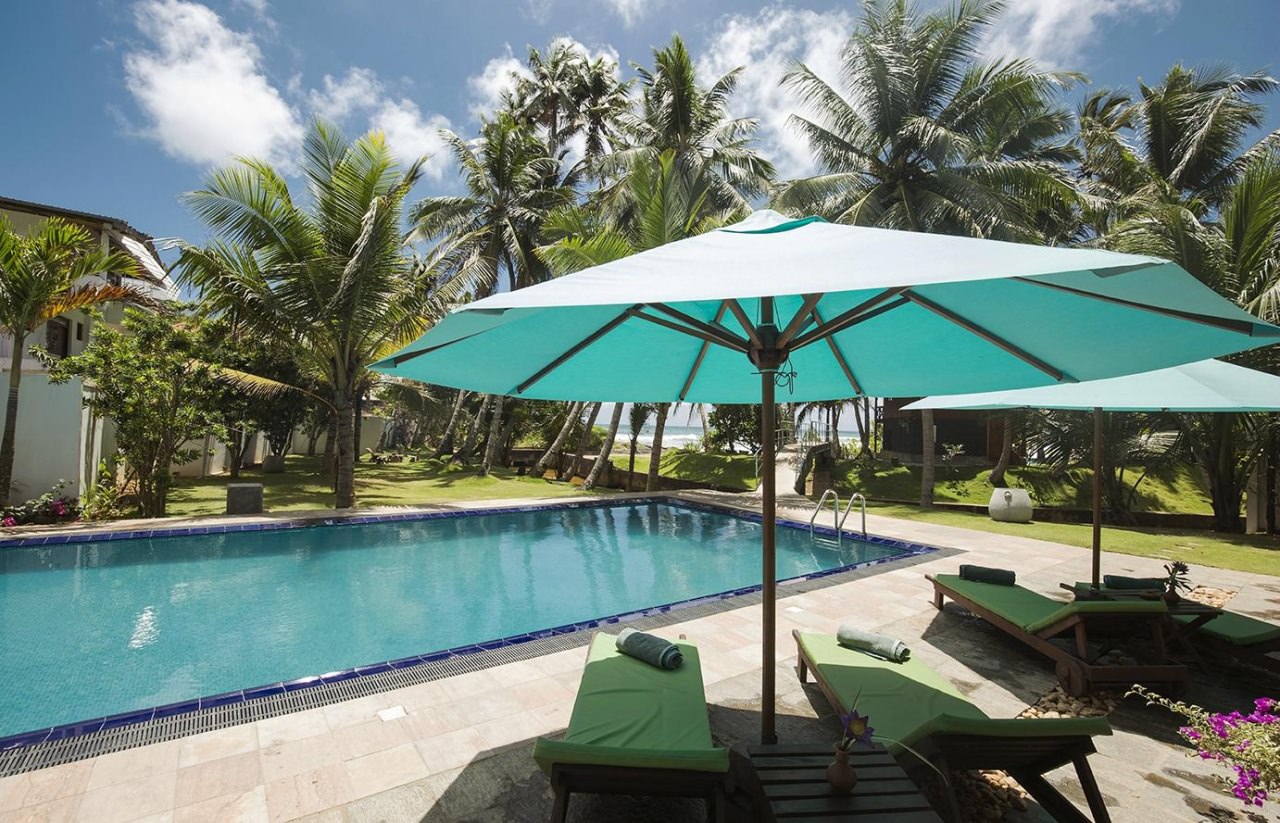 Rockside Beach Resort, Induruwa
Rockside is a small beachfront resort on the beautiful Induruwa beach on Sri Lanka's southwest coast. The hotel has a pool, and most rooms have oceanfront balconies.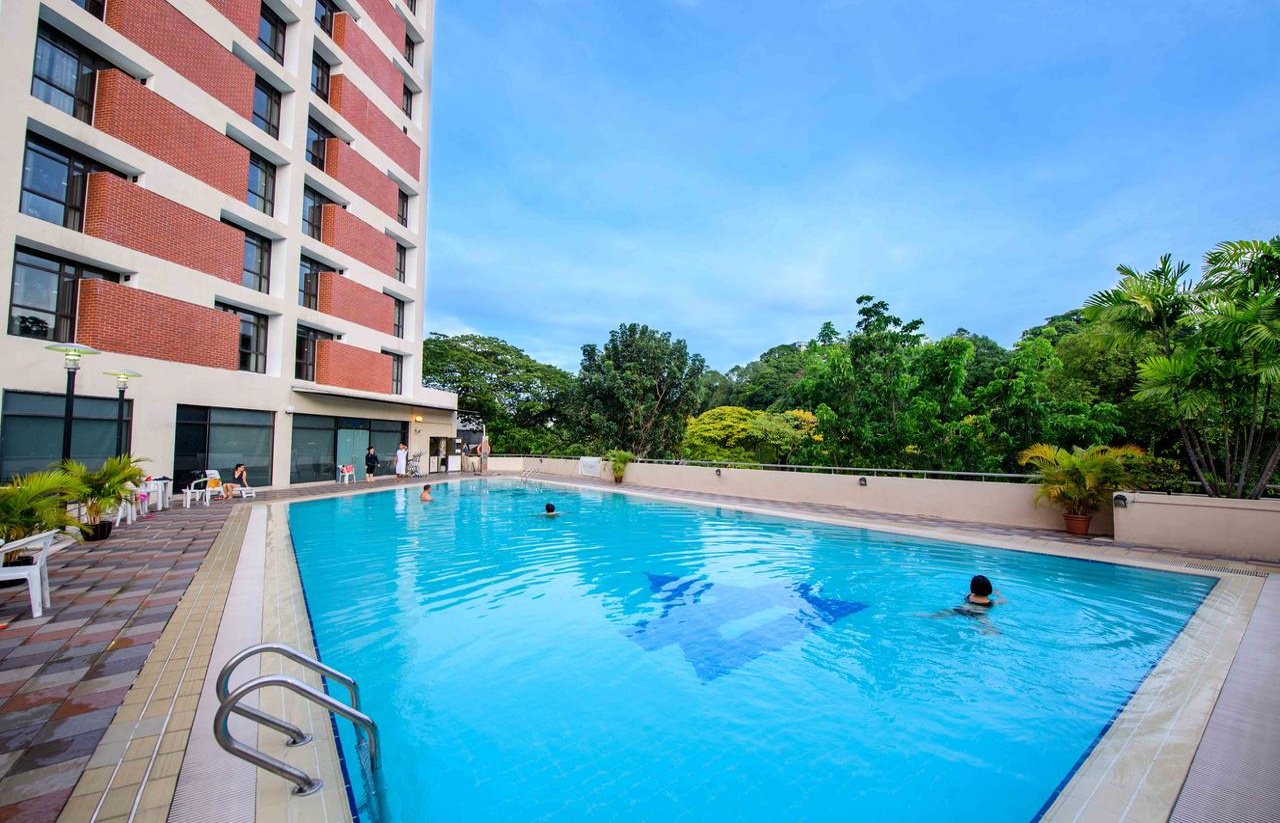 Fort Canning Lodge YWCA, Singapore
Fort Canning Lodge YMCA is an exceptionally well priced hotel with a large pool, next to the huge Dhoby Ghaut metro station in the heart of central Singapore. It is perfect for groups
Volunteering
Volunteering Projects
Community Temple Renovation - Kandy (1 week)
Buddhist temples and shrines in Sri Lanka are held in high regard by the community and therefore must be presented well. Local communities will volunteer their time to help the monks at their local temple but there often aren't enough hands to help keep the temples in good order. The temples our volunteers work at need cleaning and repainting. Through the renovation of temples, this project offers a unique opportunity for volunteers to do some physical labor while learning about Buddhism and gain a greater appreciation of the Sri Lankan culture through interacting with villagers and children, to whom the temples hold great significance. All materials are provided and there is an onsite coordinator to provide guidance to volunteers. Volunteers who have illustration skills may also have the opportunity to restore existing paintings or paint a new illustration if required. If this is of interest, it is recommended that volunteers do some research and come with some ideas of a potential image they can paint.
Childcare - Kandy (1 week)
Due to a lack of resources and limited staff, volunteers are in high demand to assist with caring for children in childcare centers in Sri Lanka. Through providing attention and care to the children, volunteers help build a positive and loving atmosphere within the centers, fostering the development of greater levels of confidence in the children. Volunteers can also help with basic maintenance at some of these centers, which may include gardening, painting and cleaning. Childcare work varies and volunteers may assist with teaching English and providing guidance with homework, arranging games and activities. Some volunteers will also assist staff with washing the children's clothing.
Elephant Welfare - Kegalle (1 week)
Millennium Elephant Foundation (MEF) is a non-government organization (NGO) dedicated to improving the welfare of domestic elephants throughout Sri Lanka. MEF was started in 1999 and relies on the income from volunteers and tourism to fund the care, medical treatments, food for the retired working elephants on site, mahout salaries, and the running costs of an on call Mobile Veterinary Unit which travels around Sri Lanka treating sick elephants. Your volunteer programme at MEF may include:
An educational presentation by an resident elephant expert
A tour of the MEF museum, and Elephant Dung Paper factory
Walking with an elephant while learning about it from its mahout (handler)
Bathing an elephant in the river
Preparing vitamins and medicines for the elephants
Elephant feeding
Checking elephants for injuries and foot rot
Cleaning elephant enclosures
MEF grounds maintainance
River cleaning
Project work (eco-gardening, painting, research assistance, fruit shop selling)
 Accommodation in Kegalle will be in the Volunteer Village at Millennium Elephant Foundation. These are basic but comfortable 4 person bunk rooms, in a private area of the Millennium grounds. There are hammocks for relaxation, a firepit for the evenings, and yoga lessons in the morning.  The volunteer accommodation has both indoor hot showers, and cold outdoor showers if you want.  The elephant mahouts and staff who live on the property are always keen for a game of volleyball.
Meals are delicious, buffet style, and served in the original colonial house on the Millennium property.
There is a small store selling most personal items, food and drinks directly across the road from Millennium Elephant Foundation.
TESTIMONIALS
What People Are Saying
"My trip was fantastic! It was everything I hoped for and more. I've always wanted to participate in some kind of volunteering and the fact that this trip included volunteering and everything else as well, and being in such an exotic country, motivated me to take part. The sightseeing, the safari, the volunteering, the train trip, the elephant sanctuary, every single thing we did was so much fun and I would do it again in a heartbeat. I particularly loved how close we got with elephants. It was amazing. It was amazing for us to be able to experience such an amazing country and also to give back. I definitely felt a greater sense of confidence in my abilities after our volunteering. I learnt that I am more capable than I sometimes think, and I learnt that I would love to volunteer more in the future. My trip was hands down the best thing I have ever done. I'm incredibly grateful that I had this opportunity and would recommend it to anyone. It will truly be one of best experiences of your life! Thanks to Brett, who planned and executed everything so well. I couldn't have asked for a better leader."
– Georgia C. (Student)
"My entire trip was extraordinarily spectacular; the best thing that has happened in my life so far. I wanted to help others and see what the world is like away from home. I would recommend a Better World Adventure trip to anyone. You learn so much about not only where you are travelling, but also about who you are. Brett was an absolutely awesome leader and extremely knowledgeable. We had all of our needs catered to.  It was so cool to bond with everyone in the group. It's hard to choose my most favourable experience, but a highlight was volunteering at the elephant sanctuary. Being able to touch and be in the lives of elephants was absolutely spectacular. Getting showered by an elephant was so unexpected. I also loved volunteering at the childcare centre and being so happy with the kids while also feeling I was helping and making a difference. I definitely feel that I have grown in maturity."
– Gianna B. (Student)
"The best decision I have ever made was coming on this trip!!! It changed my life. I really wanted to do something different and physically and mentally challenging. I think volunteering made us feel really independent and helped me develop as a person.  My world view has changed and I feel that I have matured.  I loved the singing and bonding and the friendships we made."
– Ava M (Student)
"I would highly recommend a Better World Adventure Tour. My daughter had a fantastic experience. Her tour was faultlessly organized by BWA, from the very first meeting to the arrival home. Communication throughout the time before departure was outstanding. The tour price was a significant factor.  It was very good value for all the amazing activities they got to do. My daughter came home buzzing with excitement. It was an amazing opportunity for a young teenager, and I'm sure she has gained in self-confidence."
– Leone W. (Parent)
"A huge thank you to Better World Adventures. I couldn't have asked for a better experience for my son for his first trip away from family. It was the trip of a lifetime and has opened his eyes to greater options in his future. Brett's organisation and attention to detail were amazing. We were fully informed and felt reassured that my son was in safe hands at all times. We loved that there was so much packed into each day with a great balance of work and play."
– Brent L. (Parent)
"I wholeheartedly recommend a Better World Adventures expedition for your son or daughter. My daughter's trip was such a wonderful opportunity to experience a great mix of different things. She particularly enjoyed the elephant sanctuary and would like to go back someday. The tour was so well planned and organised with sightseeing before and after the volunteering and then finishing with an excellent stopover in Singapore. The great price was the deciding factor. We liked that everything was included in the price and the way that the payments were spread out over the year was helpful too. The trip's pre-departure preparation was great. The meetings were very informative and spread out throughout the year covering different things each time. Since her trip, my daughter seems more mature. It has definitely made her think more about her future and what she might be able to do."
– Belinda C. (Parent)
Gallery
Sri Lanka Adventure Gallery
Request more information!